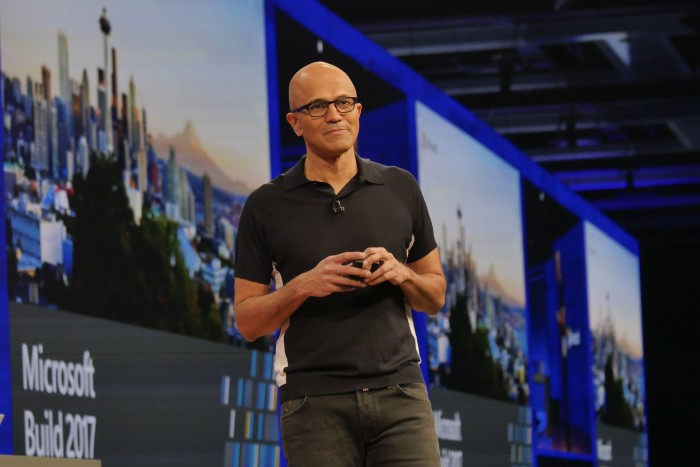 James Dartnell reports from Microsoft Build 2017 at Seattle's Washington State Convention Centre, where the firm launched a whole host of striking AI and edge computing technologies that CEO Satya Nadella hopes can inspire a safer, more ethical future.
It was certainly encouraging to see Satya Nadella display some restraint in his keynote at Microsoft's annual developer conference. Frankly, most CEO's in his position would not. Addressing a room of some of the world's brightest IT minds, Nadella made it clear that prodigious technology must be coupled with prudence. "The opportunity for developers to have a broad, deep impact on society and the economy has never been greater," he said. "With this enormous opportunity comes enormous responsibility. To me, the choices that we as developers make will have profound implications on society."
Offering a nod to the possibilities – good and bad – of what can be created with AI, Nadella acknowledged the need for ethical decisions in the use of sophisticated IT tools. "Build is about the massive shift that will play out," he said. "There are unintended consequences of technology. We can't just use more technology to solve problems, and technologists alone can't solve them. But it is up to us to ensure dystopian scenarios don't come true.
"We need to build more trust in technology as the world becomes more technology-driven. That starts with us taking accountability for the algorithms and experiences that we create. Perhaps most importantly, it's about celebrating what you can do with technology to have a broad impact."
While Microsoft still undoubtedly has work to do on its mission to enable a truly 'mobile-first, cloud-first' culture across the world, the firm is already looking to raise the stakes in the delivery of AI-enabled services and computing at the edge. Nadella announced that there are now 500 million Windows 10 devices, 100 million monthly active users for Office 365 and 140 million monthly Cortana users, and these numbers are clear evidence of the company's enduring appeal.
However, there's an acknowledgement from within Redmond that in the near future, there won't be space in the market for systems, apps and devices that are not "intelligent". In September 2016, the firm established its AI and Research Group, the new organisation that is led by executive vice president Harry Shum, which now employs over 6,000 people. That organisation is currently prioritising text, speech and gesture recognition to reason with different datasets, and is on a mission to make its Azure cloud services smarter.
One of Microsoft's most eye-catching announcements was its Azure IoT Edge service, which runs Azure cloud functions on Internet of Things devices, by removing the cloud loop and pushing the logic out to devices.
Nadella used the example of workplace safety to illustrate what could be achieved with a sharp blend of AI and edge computing. "If you think about the last 20 years, the biggest change we've seen is the ability to index and search all text that has ever been created through Web and search," he said. "Just imagine if we could do that with any physical place, like a hospital, industrial setting or factory floor. We can create safety for humans, and policies for safe interactions. This can change lives. Pretty much all workplace accidents could be prevented if they could be detected beforehand."
Using a solution consisting of Azure IoT Edge, Azure Stack, Microsoft Cognitive Services and cameras, director of commercial communications Andrea Carl gave a demo which showed a workshop site on stage. The system was able to visually recognise if a "jackhammer" was in an unsafe position within the workshop, or if an unauthorised employee was about to pick it up. This in turn triggered alerts to employees' devices within the workspace. The solution makes more than 27 million recognitions per second.
According to Microsoft, this technology can also be used to identify things such as spillages in the workplace, while policies can be created that grant access for which employee can use which tool. "The intelligent edge is the interface between a computer and the real world," Nadella said. "We are reaching a point where we can't rendezvous training in the cloud, we need it at the edge."
Embedding Azure with AI services is another of Microsoft's key mandates. The firm announced new cognitive services and platform innovations in the Microsoft Bot Framework, as well as advances in deep learning tools and insights offered through the Microsoft Graph.
AI and research group chief Shum explained that information will be key to what can be achieved with artificial intelligence. "It's amazing to see AI becoming a reality, our vision for which is to amplify human ingenuity," he said. "To have great AI, you need great data. The forces of big compute, powerful algorithms and massive data are combining to present a new era for AI. A key part of our innovation has been building deep neural nets for object segmentation."
Shum continued by saying that new conversational elements within Microsoft's AI offerings represented a hugely disruptive influence in technology. "Advancements in speech and language are enabling conversational AI – conversation as a platform – which is the next major user interface paradigm shift," he said. "Conversational AI represents a move from a world where humans learn about computers, to where computers understand humans."
The company now provides 29 cognitive services for developers, with customisation options. These enable developers to infuse intelligence capabilities such as vision, speech, language, knowledge and search into their app and bot experiences.
These include Custom Vision, Custom Decision and Video Indexer. The real-time PowerPoint add-in Presentation Translator – offered in Arabic – was also featured.