CADD Emirates, one of the region's leading systems integrators, in conjunction with CPI Media Group, held a panel discussion with HPE to discuss the acceleration of digital transformation across the region – and the benefits its new consumption model provides for customers during the COVID-19 crisis.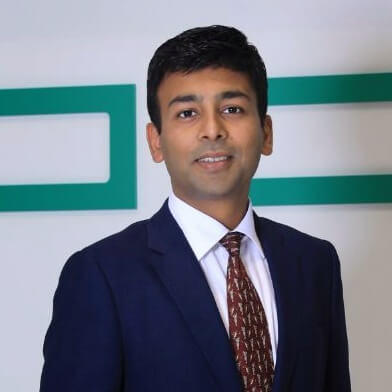 Stanley Harish, Enterprise Solutions Architect and Noel Aloysious, Solutions Architect at CADD Emirates, were joined by Kshitij Saxena, GreenLake Channel Sales for Middle East, Saudi and South Africa, and Morad Qutqut, Chief Customer Innovation Officer at HPE, for an in-depth discussion, which was moderated by CNME Editor Mark Forker.
The panel discussion examined a whole range of different issues currently afflicting the IT ecosystem, but Stanley Harish kickstarted the conversation by examining how enterprises need to understand what the defining characteristics of digital transformation actually entails, pointing out that many simply update an application and then label it as digital transformation.
"The entire world is talking about digital transformation, but not everybody is adaptable to digital transformation. Digital transformation is a process of integrating digital technologies into the whole aspect of the business, whether that be the culture, operations, value or delivery. The overall objective is leverage technology to both to improve customer experience, to create new ways for customers to engage with the business. However, a lot of businesses are guilty of making changes to their website, or their application and then claiming that they've achieved digital transformation, but that is not digital transformation," said Harish.
Harish pointed out that many enterprises need to shed that legacy technology, because the cost of maintaining that legacy technology is excessive. However, he stressed that it was critically important for businesses to determine why they need digital transformation, before they embark on that journey and devise a robust strategy in order to achieve success.
"You need a proper roadmap to achieve the digital transformation that you want, and businesses have to move away from their normal way of thinking to more innovative ways in order to digitise their business. There is lack of confidence for many businesses undertaking digital transformation, and this stems from the fact that they don't have a proper strategy. The problem is that many try to get everything into one, but digital transformation doesn't work like that, you need to strategise, and have a solid game plan to succeed," said Harish.
Noel Aloysious highlighted how everybody was caught off guard by the COIVD-19 pandemic, and that when businesses transitioned to remote working, only some employees were given the adequate access needed for security reasons, but that this created huge problems.
"Many organisations were using a very traditional type of system, so the VPN remote connectivity was only given to certain IT support users – but leveraging VPN connectivity for the entire organisation created a bottleneck situation. That's where IT has to evolve, or IT has to look for a different work culture in a collaborative way. I think a number of factors have emerged within the IT industry since this global health crisis, and I think availability, uptime – and how to give remote access to users has really come to prominence," said Aloysious.
The solutions architect at CADD Emirates also highlighted the security factor.
"We can see all over the world that bad actors are launching cyberattacks via ransomware and other methods on organisations in an effort to capitalise on the current uncertainty and vulnerability that the pandemic has caused, so businesses need to stay alert," said Aloysious.
Aloysious believes that the new IT consumption model introduced by HPE, in the form of its GreenLake solution is going to assist a lot of businesses who are seeking to reduce their costs.
"HPE have introduced a consumption model where customers can select an OPEX model. HPE has provided businesses with a lot of breathing space by coming up with GreenLake, but it has also provided a financial services model for customers looking for to access a CAPEX model for their business," said Aloysious.
The conversation then moved away from the topic of digital transformation, and HPE's Chief Innovation Officer, Morad Qutqut spoke of the importance of AI in this data-driven digital era we now live in.
According to Qutqut, whilst it is great that AI technology can help us gain the results we desire in a much quicker way, he cautioned that there remains a diverse range of challenges facing enterprises looking to integrate AI and Machine Learning into their operations.
"AI technology is allowing the machine the possibility to digest information by itself, analyse certain data – and conclude a new style of operations that can be done in a much more efficient way. This takes automation to the next level, and can provide us with the results we're expecting, but in a much faster way. That is great, but at the same time we must understand that there are multiple challenges for organisations to fulfill in order to adapt to these new solutions," said Qutqut.
The Chief Innovation Officer at the IT leader stressed that one of the major obstacles facing enterprises is skillset, claiming that many don't know what type of knowledge they need to successfully integrate AI into their organisation.
"AI relies a lot on data, without providing the proper information to the machine, it can't learn. Most of the data that is available now is very fragmented and scattered. It's also available in different silos, so we need to aggregate all of this data to create a link between these different sources of data to make sure that the machine can learn in a comprehensive way," said Qutqut.
HPE executive Kshitij Saxena articulated why its HPE GreenLake solution has become so popular with so many users – and explained the evolution businesses have undergone in terms of their own cloud journey over the last 10 years.
"A decade ago, nearly every single customer was on a cloud journey, and we found that a lot of customers loved their public cloud experience, but over a period of time the popularity of that model began to decline. The cost savings that was expected from the cloud didn't materialise, and then second aspect of it was around control. Most customers today, and even back then were asking this question of who controls my data, and who has access to my data," said Saxena.
He also reinforced the message of HPE in terms of what direction it is going – and highlighted the statement from its CEO regarding its ambition to exclusively become an as-a-service business.
"Our CEO announced that by 2022, we will provide everything we have, and will transition completely into an as-a-service organisation. What that means for our customers is that HPE is already transitioning to be that edge to the core to the cloud platform as-a-service provider to our customers, and that's what we've been working towards over the last few years," said Saxena.
He concluded by emphasising the phenomenal success of HPE GreenLake on a global scale over the past 4 years.
"The GreenLake model has grown consistently year-on-year on a global scale for the last four years, and we're also seeing some of the highest customer satisfaction rates. It has a lot to offer and ultimately gives the customer the ability to scale-up in minutes because they have the capacity under their control inside its data center, but they only pay for it when the capacity is used," said Saxena.