CPI Media Group held a virtual webinar entitled 'Moving ahead of challenges with transformation' with IT leaders from Tuqnia, Dell Technologies and VMWare in an effort to examine and explore some of the most pressing issues and opportunities that currently exist in the IT ecosystem here in the Middle East.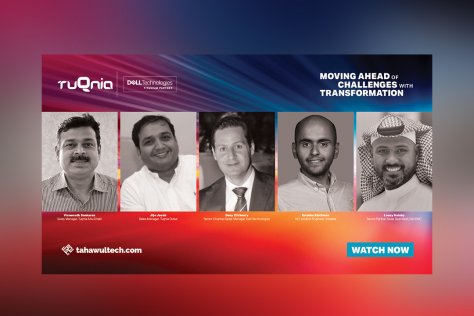 The session was moderated by CNME Editor Mark Forker, and he was joined on the webinar by Viswanath Sankaran, Sales Manager, Tuqnia Abu Dhabi and Jijo Jacob, Sales Manager for Tuqnia Dubai. 
The three IT executives who delivered presentations during the interactive online discussion were Dany El Khoury, Senior Channel Sales Manager at Dell Technologies, Ibrahim Alothman, HCI Solution Enginner at VMware and Louay Helaby, Senior Partner Sales Specialist at Dell EMC. 
Sankaran kickstarted proceedings by giving a short overview of Tuqnia and its partnership with global IT leader Dell Technologies. 
"We started our journey with Dell in 2008, which was around the same time that Dell began to become very agile and made around 18 acquisitions in terms of storage products from 2008-2016. In 2016, when Dell EMC was established following a merger, that was good for us and we grew together with Dell EMC and became a titanium partner, which means that we the acquired pre-sales, sales and technical team aligned with what Dell Technologies is asking us to do," said Sankaran. 
Tuqnia which was established in 2004, has gone from strength-to-strength over the years and as Sankaran pointed out has evolved as technologies have continued to emerge over the years. 
"We continued to adapt, grow and evolve since our inception 16 years ago, and last year we had a turnover of AED 160 million and have over 300 clients. Infrastructure solutions is our bread and butter, but we're moving towards a digital economy, so we need to diversify our offerings. We're now also focusing on industry verticals such as security, mobility, cloud, big data and Internet of Things, "said Sankaran. 
Dany El Khoury, Senior Channel Sales Manager at Dell Technologies delivered a presentation which was focused on examining the importance of data in what has become a digital-driven world. He explained that the whole objective of Dell Technologies is to create technologies that can drive human progress. 
"Dell Technologies is evolving and our plan from a vision perspective for the next 10 years has three key pillars at its core, which are sustainability, inclusion and transforming technology. We want to drive and advance sustainability by looking at better ways to recycle technology, and we want to lead initiatives designed to make this world a better place. We want to cultivate inclusion and how we can leverage technology to help us transform our lives," said El Khoury.
El Khoury pointed to a report recently commissioned by IDC, which indicated that by 2022, 60% of the global GDP will be digitalized. 
"I believe that this is just the beginning and every day you can see an exponential growth in digitalization on a global scale. However, we're also seeing a huge challenge because the growth of data is growing rapidly and it has been projected that we will have 163 ZB of data by 2025, but I actually think it'll be a much higher figure than that. In the current climate, if you're not a data-driven organization then you're in big trouble, because we fundamentally believe that every business needs to be data-driven," said El Khoury. 
The Dell executive pointed out that the three main pillars of IT transformation are modern infrastructure, modern and consistent operations and modern service delivery, but highlighted that there will always be barriers to transformation. 
"There are always challenges in transformation journeys, and so many organizations today are facing them. In a study conducted by Dell Technologies, we found that 91% of businesses are facing persistent barriers. The biggest challenge for the respondents who were IT executives was time. The other major issue for them has been the lack of talent acquisition and skills shortage, funding innovation – and finally the overall risk of not having the correct strategy and digital roadmap that is required for success," said El Khoury. 
The next presentation was conducted by Ibrahim Alothman, HCI Solution Engineer, METNA at VMware, who took an in-depth and forensic look at its cloud solution offerings. 
According to the charismatic executive at VMware, cloud is not a destination, saying that it was an operating model that has laws of physics, economics and land. 
"We're seeing that around 92% of businesses have cloud strategies that include a private cloud and 83% value consistency of infrastructure across the data center to the cloud. If you want to build your own private cloud, then typically what happens if you want to expand towards public cloud is you're going to have an issue in terms of the consistency and management of both, and this is why the future isn't public or private. It's both," said Alothman. 
Alothman then proceeded to examine Dell Technolgies Cloud, which he says is about two leaders, Dell and VMware collaborating together to have one cloud strategy. 
"The idea is to have a model where you can run your VMs and containers across private and public clouds and be able to manage them in the same way, and this is essentially the one pane of glass that everyone is attempting to come up with, but this is as close as you can get because of how different technologies are when implemented in the public and private cloud," said Alothman. 
The HCI Solution Engineer at VWmare then outlined some of the unique capabilities of its cloud foundation platform. 
"The VMware cloud foundation platform is a fully integrated infrastructure for hybrid cloud. It's simple, consistent, secure and consumable. There are several consumption offerings when it comes to how you can actually consume VMware cloud foundation, you can either get it as a turnkey product on top of the VxRail hyperconverged infrastructure," said Alothman. 
The final presentation of the session was delivered by Louay Helaby, Senior Partner Sales Specialist at Dell EMC, who talked about unlocking the potential of unstructured data. 
Helaby pointed out the many challenges facing enterprises in terms of not only managing their data but securing that data which is growing exponentially every single day. 
"As the technology is evolving, migration and hardware development is unavoidable, so if we have unstructured data, how do we overcome that type of challenge? How do we cope with the integration of the latest technologies? In terms of workloads, they can be categorized and labelled into two types of data which is structured and unstructured. Incredibly, 80% of the world's data is unstructured," said Helaby. 
The dynamic executive then highlighted how Dell EMC has positioned itself as being a market leader in helping businesses unlock their data capital over the years. 
"Gartner Magic Quadrant has made us the leader in this space for the last four years, and we believe that with the new technologies and solutions that we're bringing to the market that we continue to be the market leader for years to come. Gartner said that we illustrated a clear vision of our go-to market strategy and how we serve our customers and we're executing on this across different verticals, and this is what ultimately makes us the market leader," said Helaby. 
You can watch the full coverage of the webinar here.