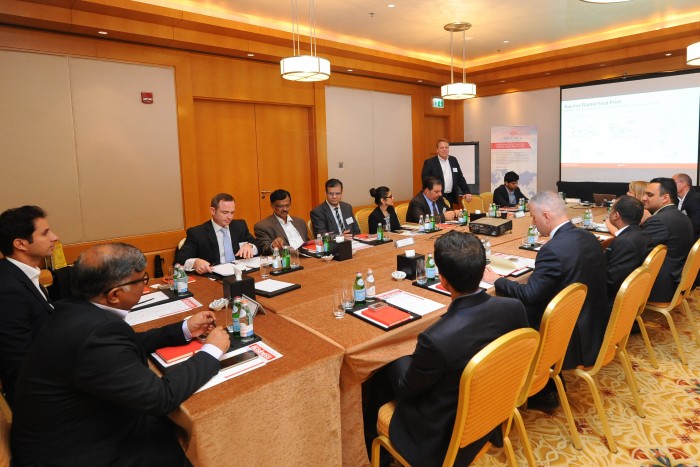 In partnership with Equinix, CNME hosted an in-depth roundtable discussion centred around the topic of connected commerce in the Middle East, and analysed how retailers can look to ensure that customers enjoy both a seamless and secure shopping experience.
The retail industry has witnessed some major changes in the Internet age. The days of products being viewed, chosen and purchased within brick-and-mortar establishments are being gradually overshadowed by the multichannel way of selling, which requires both a physical and an online presence.
This is shown in the latest IDC findings which predict that by 2018, 30 percent of major retailers worldwide will adopt a commerce platform, and will allocate between 30 and 40 percent of the IT budget to investing in these platforms.
What's more, as the Internet of Things continues to penetrate our daily lives, and with Cisco predicting that there will be 50 billion connected devices by 2020, it is no wonder that the demands and expectations of consumers are increasingly becoming reliant on the device we hold so dear to us, particularly in the UAE: our smartphone.
The recent launch of Samsung Pay in the MENA region demonstrates this recognition for retailers to equip themselves with modern payment gateways if they are to succeed in this multichannel era, said Mohammed Gharaibeh, regional director, Information and Mobility Enterprise, Samsung Pay. "When we began planning the launch of Samsung Pay in this region, the management back in Korea said no, because MENA accounted for just 3 percent of our revenue," he said. "However, the UAE holds the highest smartphone penetration in the world, at 85 percent – making it the ideal market."
He added, "The vision of the leadership in this country is aiming to be cashless by 2020, so that is very encouraging for initiatives such as Samsung Pay."
With any novel payment gateway, there are always concerns around the security and protection of payment details. "Security is the main concern for us when thinking about adopting this sort of technology," said Arun Chalam, CTO, Choithrams. "We are still seeing the majority of payments in our stores through cash and card. Mobile banking is typically a target, and consumers still consider this threat when they go to pay online."
But what protection is in place for those that do fall victim to hacks or personal data leaks after using these connected commerce payment methods? The region is playing catch-up in many areas, and regulation is no exception, according to Eamon Holley, legal director, DLA Piper. "When clients come to us and talk about what is happening in Europe in terms of data protection, and compare that with what is happening here – there is a major gap," he said. "The Central Bank of the UAE has published a set of digital payments regulations, but the way in which they have gone about explaining how these will be implemented is not at all clear."
Nick Vora, SVP, enterprise security solutions and processing, MEA, MasterCard, agreed, and said he had even joked with his legal team when the new regulations were first released that law firms would be kept busy due to the amount of room for interpretation in the rules. "When you're entering the digital commerce world, especially when you're going pan-regional, or even global, the sheer variety of rule sets that you must look at and adhere to is very complex," he said. "There is no one-size-fits-all."
This is something that merchants and payment service providers (PSPs) in the region must bear in mind as they extend their reach in connected commerce, believes Anil Nama, CIO at CtrlS Datacenters Ltd. "We know that a high proportion of transactions are happening cross-border, which means the people that are paying here are being regulated overseas," he said. "If a PSP, or a bank wants to conform to all, it has to ensure complete compliance with all regulations."
Kriti Makker, director, Performance Solutions MENA, Visa, supported this view, citing data that showed almost 50 percent of e-commerce transactions across the Visa network from the MENA region were cross-border.
She went on to explain that while security – and subsequently, regulatory compliance – are crucial for PSPs, the customer experience throughout the shopping process must be completely seamless to ensure success at the checkout. "In the MENA region, 75 percent of online shoppers drop out at the checkout," she said. "The majority do not proceed because of poor navigation during the payment experience, or inconvenience of the app."
3D-secure methods of protection on online payments, such as Verified by Visa and SecureCode by MasterCard are increasingly being adopted as a simple, yet secure, way of completing e-commerce transactions.
However, Janti Abdalla, general manager, STS PayOne, expressed that he had received mixed feedback from merchants using these methods. "A lot of merchants are getting rejections by adopting this precaution," he said. "This could be because customers are forgetting their four-digit password, but merchants have found that it is easier for them to require the customer to fill in all of their details as a first-time customer and store them in the system, rather than hassling them with questions every time they come to check-out."
In a bid to revamp this process, Makker disclosed that Visa was looking into making this procedure more dynamic. "We're investigating whether we can identify the customer through their location or device, and we're also looking at the possibility of tokens – similar to those that Samsung Pay use," she said.