James Dartnell reports from Teradata Universe EMEA 2017 in Nice, France, where the firm conceded it needed to continue its push to 'regain focus', as well as embrace Hadoop, cloud and open source to drive customer business outcomes.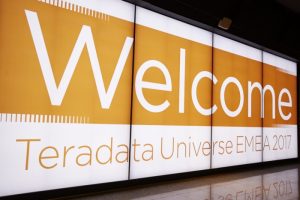 If Teradata had indeed been asleep at the wheel, it now looks to be living life in the fast lane. A recurrent theme of its Universe EMEA conference in the south of France was an acknowledgement that it had perhaps lost its way in finding a balance between business and technology initiatives, but that things were now back on the right track for the company who has recognised that it needs to stick to its core strengths of software and analytics.
Company president and chief executive Victor Lund conceded that the firm had been in need of a change of direction if it was to remain competitive. "We felt we had lost our focus a bit over the last few years, and were off the pace in a couple of ways," he said. "We forgot to move in the ways that customers wanted us to. We had a couple of years that were not bad, but not great by Teradata's standards. I wanted to put some swagger back into the team. We maybe shied away a bit from Hadoop, cloud and open source but over the past year we've moved at lightning speed, reaching a pace of change that we want to keep up forever."
Having ascended to the CEO role just under a year ago, Lund has made it his mission to reinvigorate the company with an approach that focuses on results, and not just on technology. "Our focus had to be on the customers and what they wanted," he said. "People are now talking about outcomes and business answers rather than bits and bytes. We've spent the last year developing a customer-focused strategy to be business-led. We spent time driving ourselves to understand what customers want around deployment options and analytics. I don't consider myself a technologist. I consider myself a business user of technology, and I understand what customers want and how they apply technology."
The firm has been on a drive to hire business consultants and data scientists over the last year, in a bid to help customers make sense of information and "drive business outcomes", as well as prioritising its R&D investments in cloud, and acquisitions of open source solutions.
Peter Mikkelsen, executive vice president, international, said the changes that Lund had brought to the table had given the company the shake-up it needed. "As a long-time veteran of Teradata, I can say that the last year has brought more change than the preceding 10 years at the company," he said. "If we don't move forward, we move backwards, as our competitors are moving at such a fast rate."
Teradata's executive vice president and chief business development officer, Mikael Bisgaard-Bohr, meanwhile, delivered a fascinating take on the ways in which the world's biggest companies are waking up to the need to put data at the core of their strategies – the kind of opportunity that Teradata is looking to exploit. "Continuous, on-demand services will change the ways that companies will compete," he said. "Competitive advantage will come from a company's ability to deal with data and software. Around 50-60 percent of the car of the future's value will consist of its devices and data, not the seats and steering wheel."
Bisgaard-Bohr cited the futuristic approach of US retailer Walmart – who last year posted the world's largest revenue for a single company, $486 billion – and their work with technology that has set the groundwork for their current success. "They went all-in on technology in the early 90s," he said. "They invested in point of sale systems not only for efficiency, but also for the data. They understood that data would let them understand customer behaviour and selling patterns, and help them to synchronise supply chains."
Chief technology officer Stephen Brobst explained how Teradata is using an open approach to make its analytics tools smarter. "We're not building algorithms and neural networks; we're using open source to do that," he said. "We're learning more effectively by automating the testing loop, and are able to work for customers with very large data sets, moving into deep learning and non-linear relationships in data. Artificial intelligence is an umbrella that covers lots of things. I used to joke that AI was the space of all problems that we don't know how to solve. As we learn to solve them, we give them names. Deep learning is a more narrow definition around using multiple layered neural networks. AI is a marketing term."
Teradata announced the release of its new database license flexibility across hybrid cloud deployments. With portable database licenses, Teradata customers can now have the flexibility to choose, shift, expand, and restructure their hybrid cloud environment by moving licenses between deployment options as their business needs change. The new subscription-based licenses come in four tiers, ranging from a free tier for database development to high-concurrency mixed-workload analytical systems, with new bundled features. All tiers come with the same version of Teradata database software, enabling the movement of workloads across tiers. All tiers also come with database features bundled into the license to allow customers to incorporate technologies and build analytical environments.
The firm also announced an all-memory update to its flagship IntelliFlex platform, as well as its new IntelliBase platform. The IntelliFlex upgrades are led by a move to all solid-state drives. Both products are offered on-premises, with IntelliCloud availability also coming soon. Both run the same Teradata database software. IntelliCloud is a managed cloud offering that provides data and analytic software-as-a-service. It is available with new deployment choices including IntelliFlex, and global public cloud infrastructure from Amazon Web Services and later, from Microsoft Azure. IntelliFlex, launched in early 2016 and in its third release over the last 12 months, delivers a fabric-based architecture that enables the scaling of processing power and storage to match workload requirements. For entry-level data and analytic needs, Teradata created IntelliBase – a solution capable of delivering a logical data warehouse in a solitary cabinet, with single vendor support.