Banking and finance technology leaders joined Etisalat at the The Ritz-Carlton DIFC to learn how they could make the most of the vast digital transformation opportunities on offer in their industries.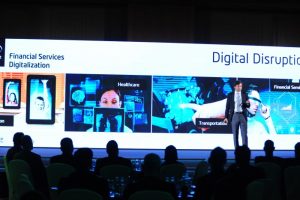 Banking and finance are being digitalised at a rate that is perhaps faster than any other industry. Banking services are being shifted to customer's mobile devices, while Fintech is allowing transactions to be conducted at breakneck speed. All this results in great complexity for technology decision makers. Both industries are witnessing a transformation of their internal processes, and unprecedented levels of customer expectation.
Vice president of enterprise sales Ragy Magdy got things underway at the Etisalat: Financial services digitalisation conference by framing how Etisalat Digital is now positioned to help banking and financial services customers transition to digital platforms and processes. "Everyone is going through transformation," he said. "Every business who wants to succeed in their transformation journey needs a strong leader with a clear vision. Our CEO, Saleh Al Abdooli, has that vision. He has shown commitment in onboarding the right people and partners to helping us grow. Our goal is to help you understand how we can help you in your digital transformation."
Etisalat Digital's senior vice president Francisco Salcedo discussed how the newly formed organisation within the Etisalat Group will tailor its services to keep clients competitive. "Technology is changing the way we work, engage with customers, think and live," he said. "We are in a transition period. The next 10 years will determine who will succeed and who will not. We thought about how we could get the best of both worlds – how we can be the best digital player and retain all the good qualities of a strong telco company. We decided to build a unit within Etisalat to offer end-to-end solutions to our digital customers. Success means phygital. We need to understand the importance of omnichannel transformation, and connecting our customers' physical touchpoints."
The audience were then treated to an in-depth presentation from Gartner's senior executive partner Arnold Gutmann. He highlighted how organisations needed to shift from being "Samurais to ninjas" in terms of their technology strategy. "A samurai takes a linear approach to change, emphasising predictability, accuracy, reliability and stability," he said. "A ninja learns through iteration, emphasising agility and speed and, above all, the ability to manage uncertainty. Leadership is an important ingredient for a successful innovation strategy. You have to be both a Samurai and Ninja."
He went on to add that many organisations overcomplicate the idea of digital transformation. "Digital transformation doesn't have to be rocket science," he said. "You don't have to outthink your competition, it's enough to just make sure you adopt solutions that fit your market. It's not just about transforming your organisation. It's also about how you transform ways to communicate with customers, partners and even competitors."
Senior director of security solutions Kamran Ahsan discussed how banking and financial services are especially in need of processes that are as smart as their technologies. "We are living in an IoT age – the Internet of threats," he said. "The banking and financial services industry is the only sector that's proactive in learning about the implications of the growing threat landscape. Digital security has become an ecosystem. As custodians of IT and business, we need to learn about the digital security ecosystem. We know that every company is different. Each BFSI firm is different in their approaches and risk appetites. That's why we are focused on offering them the best services that are customised according to their needs."
Rounding off the day's presentations was Maha Muraish, vice president of data monetisation, who discussed the importance of utilising channels to their full effect. "The most important thing to think about is your customers," she said. "You need to understand them – what they need and how they want to get it. It is also important to know about the channels that you are using. The outcome of a service may vary depending on the channel that it is deployed from. Bringing a unique experience and making your customers feel secure are key ingredients for the digital branch."
Also speaking at the conference were Miguel Angel Villalonga, vice president of cloud and data centre, and Alberto Araque, vice president, digital marketing and Internet of things.