In partnership with Avaya and AGC Networks, CNME hosted a roundtable discussion on how organisations can put the customer experience at the heart of their digital transformation initiatives.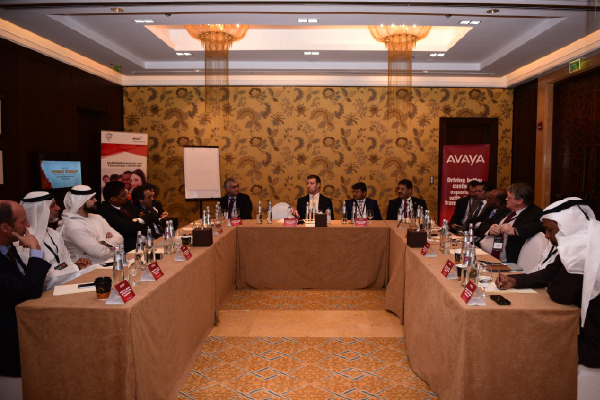 As consumers increasingly interact with machines instead of human beings, delivering ease of use with online platforms will be critical for digital businesses. A selection of executives who sit at the heart of this change gathered at the Ritz-Carlton Jumeirah Beach Residence to share their thoughts on how CIOs can satisfy internal stakeholders as well as end customers.
The discussion began with the subject of where customer experience enhancement ranked on the CIO's list of priorities for the near future. Dr Jassim Haji, director of IT, Gulf Air, said that the airline industry constantly demands ease of use for its consumers. "For us, customer experience through digitalisation is everything that we do, and all of our work is driven to support it, whether that's in our infrastructure or innovations," he said. "We focus a lot on mobile apps and direct communication with clients through social media. Customers are getting smarter. We need to think about how we can provide things like social media for them while they are in the skies."
UAE Exchange CIO Surendra Shetty echoed Dr Haji's sentiments in terms of company strategy. "Customer centricity is a big part of our vision statement and has been one of our strongest pillars for years," he said. "A key shift from us is moving from retail to digital services. With changes around Fintech, our competitors are not really the leading players, but the newer ones. We've made the way that customers do transactions through web and mobile apps a priority, but the challenge remains how to use our historic customer data – from the last 36 years."
Shetty added that frequently monitoring customer sentiment was a broad challenge. "There may have been hundreds of times where a good or bad experience has been had, and we have not been able to measure it," he said. "In the digital world, you should always be able to give feedback, and it should be measured."
Data digest
Sreedhar Reddy, director of IT, Aldar Properties, explained how the company wanted to improve the selection of offers available to consumers in its retail outlets, as its real estate clients. "Our customers are diversified and have different needs, for example those who buy and rent our properties," he said. "Satisfying their needs is done in different ways, and also through partners, which is a challenge. As we move to understand customer behaviour, we are looking at people who visit our malls and see what they buy to run new campaigns or services. One interesting challenge is how we can use data to enrich their experience and improve the offers they receive."
Reddy also highlighted how unstructured data presented unprecedented challenges. "We have a lot of datasets on customer activity, but challenges surround newer ones in sets such as footfall," he said. "It is harder to get a unified view with unstructured sets so we can analyse data and target customers better."
Zuhair Lardhi, director of IT, Khalifa Fund, said that he was keen to align the organisation with the strategy of the UAE's leadership. "We are now focused on differentiating ourselves through innovation, which is a government-driven initiative right now," he said. "It's now a question of how much you want to stretch yourselves with IT, and how much you have to invest."
Lardhi added that the way governments use data could hold the key to delivering customer satisfaction. "The data is there from a range of government agencies, and the same goes for all private sector companies. There needs to be a way that this information can be used to create better services for citizens."
Internal customers
The definition of 'customer' was not restricted to external clients for some of the discussion's participants. Ahmed Mohammed Kajoor, chief technology officer, Dubai Municipality, said that it was important to view a selection of stakeholders as customers in order to deliver services in the right areas. "Our internal employees are also our customers, and we have a duty to keep them happy in the way they work," he said. "One of our biggest challenges is integrating all the platforms in our environment in order to do that."
Angus McIntyre, vice president of IT, RAK Ceramics, said that the company was striving to meet users' high standards, but that was not always an easy task. "Users hold IT accountable for everything from the screen backwards," he said. "They don't care if it's network, servers or whatever that's causing the fault. They don't appreciate the huge amount of peripheral work that goes in. Part of our challenge is communicating so that people understand what we're trying to achieve."
Salah Ghaith, head of IT infrastructure, Bahrain Petroleum Company, also highlighted how the delivery of a more cost-effective and efficient IT backbone had delivered an enhanced customer experience to the firm's internal users.
Ahmed Alkindi, IT manager, National Ambulance, said that although the organisation was making progress in its digitalisation efforts, the main issue it faced was one of navigation. "The key thing for us is providing directions and locations as quickly as possible," he said. "The main issue we have is standard addresses, which is a problem in this country. A hospital could be behind a certain building and may not have a given street name."
Marco van de Sandt, CIO of Saudi power generation and water treatment plant contractor Alfanar, described how the firm has used mobility and satellite maps to enhance the quality of services delivered to its clients across the country, including Saudi Electricity Company.
Representing the sponsors at the roundtable were Savio Dias, Avaya's director for sales engineering for the Middle East, Africa and Asia-Pacific regions, Avaya's Yaser Alzubaidi, engagement solutions sales leader for the Asia-Pacific, Middle East and Africa region and Sanjay Ahuja, vice president, Middle East and Africa, AGC Networks.