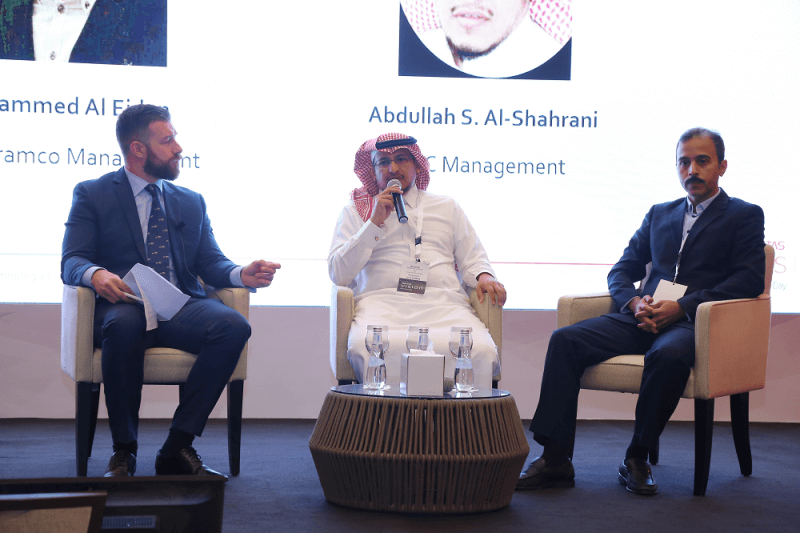 Data management, digital transformation and security were on the agenda as Veritas brought its Vision Solution Day conference to the Burj Rafal Kempinski Hotel in Riyadh.
Veritas Middle East regional director Damian Wilk kicked off proceedings by spotlighting the ways that Veritas is aiming to help its regional customers. "Data has become critical to the future success of businesses," he said. "We often talk about information being our most valued asset, so it needs to be protected, managed, available and compliant. Veritas has been the market leader for more than 20 years and has spent $300 million on building software to protect data wherever it is."
Senior vice president for EMEA sales Mark Nutt followed Wilk but putting the growth of data into context. "Over 2.5 quintillion bytes of data are created daily, but 50% of that data is dark," he said. "There will be 163 zettabytes of data by 2025. If you're using data to operate in the digital marketplace, it needs to be available 24/7, therefore needs resilience. If you're a government body and someone decides to attack you, you need to have a plan to defend your data."
Nutt highlighted the ways that Uber, Marriott Hotels and Facebook had fallen victim to data breaches, as well as British bank TSB, whose CEO was fired after the firm had "major" data issues during its split from parent company Lloyd's, meaning customers were without their bank accounts for weeks. "Customers couldn't pay their credit cards or mortgages," he said. "They lost consumer trust. They got things wrong and the implications were significant."
Johnny Karam, vice president of emerging markets for Veritas, highlighted how more agile competitors had caused the plight of retailers Sears and Toys R Us, and asked the audience to consider what could happen 10 years down the line if companies fail to react to impending technological change. "Take insurance companies," he said. "Imagine when you get a quote for your car, let's say there will be completely different insurance metrics – things like your acceleration and braking rates and bluetooth usage. In South Africa, companies are already doing that. All insurance companies will do that. Banks could have enough data about your consumer habits to know you buy every other iPhone. They know the new iPhone is coming out and can offer you a small loan for that iPhone. Without data these scenarios are not possible. The big question we have to ask is do we want to be dinosaurs when this transformation happens?"
CNME editor James Dartnell then hosted a panel discussion which featured data management experts from Saudi Aramco and Saudi Electricity Company. Mohammed Qassim Al Eidan, data management leader for Saudi Aramco, discussed how Veritas had been a crucial backup partner to the energy giant. "Saudi Aramco has a strong relationship with Veritas, which supports our backup and restore technologies," he said. "We have weekly or bi-monthly meetings with Veritas to tackle our challenges. In 2018, a major challenge we had was migrating from legacy servers to the cloud. Working closely with Veritas reduced that process to 8 months, which was completed in December 2018."
Abdullah Saeed Al Shahrani, systems operations manager for Saudi Electricity Company, then highlighted how Veritas was supporting the firm in its bid to deal with the huge volumes of data it now has to manage. "The IoT will be widely adopted and will generate a lot of data for SEC. Our sensors will produce so much data which needs to be analysed, stored and processed with a view to move from meter-centric to customer-centric models. Data needs to be analysed more frequently with a customer focus. The use of AI and chatbots will soon be adopted in SEC, and these sources will also provide huge amounts of data. It needs to be replicated to different sites and categorised. Systems need to be protected in such a way that we can failover from one data centre to another."
Veritas's chief technology officer for emerging markets Arthur Dell went on to highlight the ways that quantum computing would cause a paradigm shift in terms of data analysis, and reinforced the message that organisations need to rethink how they manage their data.
Brett Samuel, head of technology for the Middle East, followed Dell by highlighting the need for available, well protected data. "There's currently a fragmented way of dealing with data protection," he said. "Some customers have four different solutions for data protection. How can that be easier to manage and cheaper to acquire? In 2017, the average hourly downtime cost was $400,000. You need rock solid applications to ensure that doesn't happen. The perfect data protection strategy needs operational simplicity, broad workload support and intelligent data insights."
Guest speaker Mohsin Khan, manager of systems engineering for Veritas partner Nutanix, rounded off the day's proceedings by highlighting ways that the right IT infrastructure could deliver more efficient data management. "Technology does not serve a gap between the app and the user if it doesn't deliver the right experience," he said. "You need data to be secure and processed when wanted – that's the internet of things. You need the same concept within your data centre. If data centre processes are complex, you will have the same issues. If IT infrastructure is resilient, self-healing and agnostic of hardware, it becomes invisible."