Avaya encouraged its customers and partners to master the "Art of Experience" at their annual event Avaya ENGAGE in Dubai.
On the second day of the event, Fadi Moubarak, Vice President – Channels, Avaya International gave an insightful keynote on the importance of "connecting dots" to create the best experience possible for customers.
Moubarak, who presented the keynote instead of Nidal Abou Ltaif, President at Avaya International as he could not be present, said, "Connecting dots we can create an infinite number of experiences, but choosing which elements, when and where to connect them to try to achieve the desired experience – that's the ever ongoing challenge we all face in our daily operations."
The Channel VP continued to explain that Avaya is always striving to do its best to serve partners and customers to create the best experience possible, and going further by trying to exceed their expectations.
"Today is about coming together to share all our experiences and solutions that can help us master the 'Art of Experience'," he continued.
"Experience is an art – there is a lot of fundamental science behind it, which Avaya delivers, but the how, what, and where to use it takes art, and we see it every day in every industry as we all try to deliver the best experience possible to our customers. Companies are all competing on experience because that's one of the very few remaining spaces left to compete in. We can all deliver the best technology, but it's about how you make it work for your customers – how you connect the dots."
Mourabak was followed on stage by Benjamin Steen, Head of Customer Care, Digital Licencing & Stadium at German football club FC Bayern Munich. Steen shared the club's experience with new technologies, how they are embracing them to exceed their fans expectations and why customer loyalty is so important to any organisation.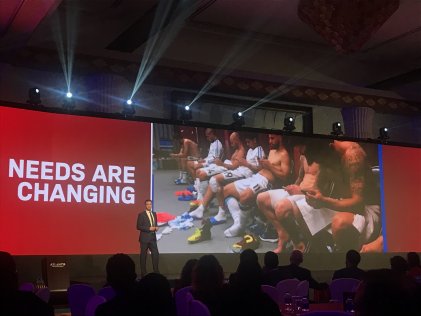 Steen argued that customers' needs are changing, but too often organisations try to meet these needs by jumping too many steps that are necessary for a successful digital transformation journey.
He said, "Everyone is talking about digital transformation, but most companies and brands make the second step before taking the first step – organisations need to transform their company from within before deep diving into new technologies. You should ask yourself 'do I have the right set up for digital transformation?'."
Steen also highlighted how Avaya has helped develop the technical infrastructure necessary to have a strong contact centre facility that in turn strengthens their fans' loyalty.
The rest of the day saw Avaya announcing a MoU with Singapore-based start-up H3 Dynamics, which will see the companies deliver a suite of aerial video and real-time video analytics to help government entities and emergency responders react faster and more efficiently.
The worldwide leader in enterprise communications also announced a new subscription program for Avaya's customers.
The new program, Avaya IX Subscription, was launched in the international market, to make it easier for EMEA and APAC customers to purchase and consume Avaya's world-class communications and collaboration solutions to drive their business growth.
Showcased at Avaya ENGAGE, the Avaya subscription program provides customers with a flexible new consumption-based alternative to traditional perpetual pricing models, and can also facilitate their transition to cloud.
"We continue to offer our customers the widest possible choice for deployment options, and as part of that, we're now able to extend a subscription model for on-premise communications infrastructures. We expect our customers to shift from an on-premise deployment paradigm to a private or public cloud architecture over the next two to three years, and Avaya IX Subscription provides a convenient stepping stone on that journey towards the cloud," said Yaser Al Zubaidi, Senior Director – Engagement Solutions, Avaya International.
"Avaya IX Subscription also highlights the flexibility inherent in Avaya's solutions, which can be consumed across a range of deployment models, and are fully capable of fitting into any given organisation's hybrid cloud strategy."