In its second annual Las Vegas 'World' outing since the completion of the record $67 billion merger, Dell EMC laid out a roadmap for customers to get the most from their IT infrastructures and applications in a challenging future. Adelle Geronimo reports from The Venetian hotel.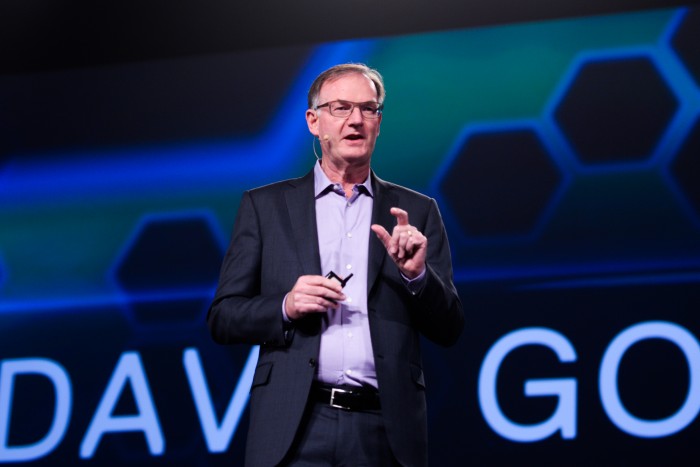 Dell Technologies may well have hit the magic number in its mission for technology dominance. The firm claims that digital transformation is not akin to magic, but its septet of technology brands – Dell EMC chief among them – are sure to play a key role in IT infrastructures around the world in the coming years.
Dell EMC World 2017 drew over 13,500 IT professionals, partners, and product experts to Las Vegas to get a hands-on feel of the company's progress, upcoming technologies and a glimpse of the future for the firm.
Founder and CEO Michael Dell kicked off the conference by laying out the company's product portfolio and gave insights into how that it is positioned to help customers take huge strides in revolutionising their business models.
"Making digital transformation happen is why we combined the expertise of Dell, Dell EMC, Pivotal, RSA, SecureWorks, Virtustream and VMware into one 'family' of strategically aligned businesses," Dell said. "This unique structure allows us to innovate like a startup but with the scale of a global powerhouse."
Dell then highlighted that the combined strengths of these brands gives the company "a leading position" in PCs, servers, storage, next-generation networking, security and cloud technologies.
"For our customers, that means having a technology partner that can be number one in everything, all in one place," he said. "This phenomenal engine is fuelled by a $4.5 billion annual investment in R&D and innovation."
Dell went on to explore how the requisites of digital transformation have been widely accepted by global businesses, and that leading companies are now being forced to act upon that realisation. "The hunger for transformation is tremendous," Dell said. "CEOs have already moved beyond being convinced about the importance of IT and digital transformation. Every company wants to be a technology company, and every business unit wants to be a platform. Technology is a key enabler for every growth strategy and every productivity initiative."
Dell handed over to Dell EMC president David Goulden, who took to the stage to reveal a three-pronged strategy that the company believes will help customers in their transformation journey. "The digital transformation mega trend will only intensify, reinforcing the need to start the IT transformation journey now," he said. "A modern, automated, and transformational data centre infrastructure is the key to businesses moving forward. The creation of Dell EMC has accelerated our ability to develop and deliver technologies that will underpin the next wave of innovation and progress for our customers."
According to Goulden, transforming IT is all about applications, which are increasingly being run on cloud. "Of course, clouds run on IT infrastructures: services, storage, and networking," he said.
"The first priority is to develop the right cloud strategy to meet diverse application needs, including the needs of general purpose, new cloud-native, and mission-critical applications."
For general applications, Dell EMC provides its own hybrid cloud offering, Enterprise Hybrid Cloud, a platform based on VMware technology. For mission-critical applications, it offers Virtustream, which provides a public cloud infrastructure specifically designed for applications that require reliability.
Goulden went on to announce that later in the year, the company will introduce the Enterprise Hybrid Cloud for Virtustream.
The firm also offers technology from Pivotal, which offers a base on which modern, cloud-native apps can be built. "Pivotal has partnerships with Amazon Web Services, Google and Microsoft Azure," Goulden added.
Dell EMC's second strategy is providing data centre infrastructure, which Goulden said is the first step in getting ready for the cloud. He invited Intel's EVP and general manager for its Data Centre group Diane Bryant on stage for one of the company's biggest product announcements this year – the new 14G PowerEdge server line, which will be available in the coming months. "Dell EMC's 14G servers are built on next-generation Xeon processing technology, which Intel plans to introduce this summer," she said. VxRail 4.5 will also be based on 14G server technology.
According to Bryant, the new PowerEdge 14G servers will be embedded in storage arrays, data protection tools, data centre and hyper-converged appliances and racks, and ready nodes among others.
"Xeon, which will be integrated into the 14G PowerEdge servers, will be focused on meeting the performance, security, and efficiency needs of cloud computing, and in helping customers to develop data centre infrastructures with the flexibility of the largest web-scale providers," said Bryant.
Goulden came back on stage to highlight the third part of Dell EMC's strategy, which is focused on helping companies with their digital transformation through services and consumption. "Dell EMC provides services through 60,000 people and partners who can help customers regardless of whether the customer wants capital purchases, a subscription service, or a pay-for-use service," he said.
During the event, the company's VP and general manager of IoT Andy Rhodes also revealed Dell EMC's affiliation with EdgeX Foundry, which was recently launched by the Linux Foundation, and involves a community of more than 50 companies.
EdgeX Foundry is an open-source software project whose goal is to drive interoperability between proprietary value-added applications and existing connectivity standards.
The conference also put the spotlight on IoT, with VMware CEO Pat Gelsinger introducing the new VMware Pulse IoT Centre, a secure IoT management solution that gives customers control over their connected things for simplified management. "The history of computing is changing and IoT will bring us to a more distributed computing world," he said. "Over the past decade, cloud has decentralised computing and IoT will be the force that will take us back to the edge. Therefore, it is crucial that we learn how we can take control of our infrastructure and know how to operate in both public and private cloud environments."
Gelsinger further highlighted that VMware is positioning the Pulse IoT Centre as a simpler way for network administrators to track, visualise, monitor and secure hundreds of thousands of different types of edge systems and connected devices. When the Pulse IoT Centre is plugged into the new EdgeX Foundry, VMware will be able to offer system and device management for the EdgeX ecosystem.