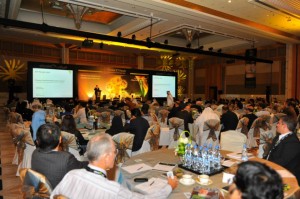 When you've built yourself up to become one of the Middle East and Africa's largest telecoms operators, it can be difficult to then position yourself as a top-notch ICT supplier, too. However at its recent ICT Forum, held in partnership with CNME, Etisalat proved with gusto that it had much more to offer than just a decent broadband rate. 
The high-profile conference, which attracted a 300-strong audience of IT professionals, was designed to showcase what else Etisalat can offer to the enterprise. From private clouds and cloud security to M2M and mobile device management, Etisalat had all the bases of enterprise IT covered.
It's no longer about 4G data rates and international calling deals at Etisalat – it's about providing anything that enterprise IT demands.
During a keynote session, Mehdi Kurishi, Senior Director of Product Management and Marketing, Etisalat, said as much. He explained about Gartner's nexus of forces and IDC's third platform of computing to drive home the point that the enterprise's IT needs are changing. And Etisalat wants to be there to accommodate any businesses that want to adapt.
His points were then echoed by Abdulla Hashim, Senior Vice President, ICT, Etisalat, who delivered the keynote session's closing remarks. He said that it was vital that companies take advantage of the emerging trends of Big Data, cloud, mobility and social. "They do not want to miss the boat," he asserted.
Following this, a packed day of up-to-the-minute talks ensued. Jyoti Lalchandani, Group Vice President and Regional Managing Director, IDC, delivered an analyst's insight into the evolving role of the CIO. Following this, Nidal Taha, Middle East Vice President, Zservices, Zscaler, explained to the audience how Etisalat's Zscaler-powered cloud security offerings can transform the way in which people now view the cloud.
Later on, Zakaraya Alashek, Senior Manager of Mobility Solutions and M2M, Etisalat, touched the growing number of opportunities that are emerging from machine-to-machine solutions. Indeed, some of his predictions seemed utterly fantastical, but the technology was available today, he said.
Pramila Rani, Senior Manager of Professional Services, Etisalat, then brought things back down to Earth with a talk on Etisalat's successes in implementing various projects – some were huge governmental projects that simply had to be delivered on time and without a single foot being put wrong. "But this isn't a sales pitch," she stressed. "I'm simply stating the facts so that you can make an informed decision."
Soon after, Antoine Chamieh, CEO, LG-Orbis Systems, took to the stage to explain about smart surveillance. Only six percent of incidents are captured by staff using CCTV because they can only be monitoring screens for 20 minutes at a time, he said. But using analytics and Big Data to assist in surveillance, corporations had a much better chance of catching out incidents as they happen, explained.
The final speaker of the day was Jitendra Kapoor, Manager of Hosting and Cloud Computing, Etisalat. His talk focused on Etisalat's cloud offerings, which include public and private clouds hosted at the firm's data centre in Jebel Ali, Dubai. This meant that local businesses who are not allowed by law to host their data outside of the country, could now get on board with the latest cloud technologies.
The event was more than a simple schedule of talks, however. Apart from holding a panel discussion with the day's speakers at the end, Etisalat wanted to make its ICT Forum more interactive than most events. Delegates were given keypads upon entrance, and then asked questions about the topics being raised by the speakers. They could vote on the answers that best applied to them using these keypads, providing an insight into how the room felt about these issues.
And given what the results showed, it seemed clear that the region's IT professionals are indeed looking to take advantage of emerging IT trends. All Etisalat wanted them to know is that it was now able to provide them with a means to do this. After all, Etisalat's product portfolio is now much broader than broadband.