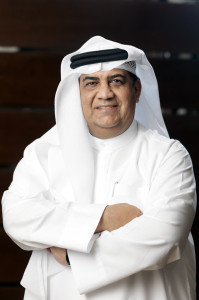 Cities around the world are in a race to become the 'smartest'. Etisalat CEO Saleh Al Abdooli speaks exclusively to CNME on how the UAE's biggest telco and ICT service provider is partnering with the government to elevate the country on the global stage.
The traditional metric of urban performance is gradually losing its clout in favour of a slicker, technology-driven approach. Yes, physical infrastructure will always be vital to city competitiveness, but ICT, and its use to generate social and environmental capital, is what is defining the power states of tomorrow.
Such a transition has afforded the opportunity for emerging regions like the Middle East to leapfrog their Western counterparts in leading the next generation of global influencers.
As the business and technology hub of the Middle East and Africa (MEA) region, the UAE is naturally pushing ahead with its own impressive plans to lead this charge.
Technology vendors from across the world are lining up to grab a piece of the action, but at the front of the queue is none other than Etisalat, which has achieved the admirable transition from flagship telco to national ICT enabler and service provider.
"With evolving market dynamics, changing ICT trends, and the need to meet government aspirations, Etisalat is committed to transform from a national, telecommunications-centric flagship carrier to a regional ICT experience provider, proactively initiating and spear-heading progressive plans to benefit the national economy," says Saleh Al Abdooli, CEO, Etisalat, who took the top UAE job last year after leading the group's Egyptian operations for five years. He says the UAE possesses key fundamentals that can foster ICT industry growth and competiveness.
He's not wrong. The nation boasts a world-class telecoms ecosystem, which has been supported by continuous investments by Etisalat over the years, including over Dh19 billion to lay out the Fiber to the Home (FTTH) network. Coverage currently stands at 80 percent of households with high broadband penetration (65 percent), which along with broadband speeds are considered to be amongst the highest rates worldwide.
Furthermore, the UAE is among the countries with the highest mobile penetration in the world, currently exceeding 170 percent.
"Keeping up with this trend," Al Abdooli says, "Etisalat realises that the future is based on services available via smart devices."
The UAE government is already playing an active role in creating a 'smarter' environment by promoting digitisation initiatives across key sectors, including health, education, energy and financial services.
And Etisalat's contribution has already been felt. With the Roads and Transport Authority (RTA), the company recently launched the 'Smart Nol' service, which gives Dubai commuters smoother travel via NFC-enabled mobile phones.
Such a service, Al Abdooli explains, is in line with Etisalat's long-term strategy to support mGovernment and initiatives raising the profile of the country, as well as impacting the lives of the people of UAE.
"In terms of smart living, we are at the start of an exciting journey," he says. "As more and more businesses adopt M2M (machine-to-machine) technology, we will all start living smarter.
"We are already living in the world where Etisalat SIM cards gauge how much energy is being utilised in a building and reduce consumption through efficiency measures."
Al Abdooli is talking specifically of Etisalat's Emirates Energy Star (EES) programme, in which buildings signed up currently enjoy average energy savings of 18 percent, and to date a reduced carbon footprint of approximately 23,698 tonnes of CO2.
Bee'ah is among the organisations to have already implemented Etisalat's fleet management solutions. The waste management company implemented M2M solutions across its fleet of 400 vehicles, which eliminated vehicle misuse and reduced fuel costs by 20 percent.
Another successful example of the EES programme is Sheikh Khalifa Medical City, which registered energy savings of 2,488 MWh and cash savings of Dh373,214 in 10 months.
"From smart cities to smarter mobile government, M2M solutions form the core technology that enables a vast number of potential smart business applications," Al Abdooli says. "M2M is still a relatively new technology that still has an immense amount of application and growth potential."
Currently, there are 83 buildings in the UAE using energy-efficient M2M solutions, with many more buildings targeted this year. As more and more businesses are exposed to the technology, and realise the cost benefits to their business, Etisalat anticipates M2M adoption will increase rapidly.
The influence of smart technologies spreads far and wide, with solutions catering to every vertical, helping organisations to increase workforce mobility, employee productivity and network efficiency, while reducing cost and complexity.
The proposed vision would increase ICT industry employment, investments and exports, boosting the creation of new ICT companies and sustaining profitability.
"Etisalat has been working closely with the government and has continuously invested in creating a first-class institutional framework that defines these dimensions," says Al Abdooli, adding that Etisalat will continue to pursue partnerships with both public and private entities to further leverage the opportunities of smart technologies.
All these efforts are in line with the national vision for the year 2020, which the government sees as essential to retain the lead in encouraging youth and economy.
To create such an ecosystem, leading IT and telecom organisations like Etisalat must come together to drive digitisation and encourage innovation and entrepreneurship to develop an export-focused ICT industry.
"In addition," Al Abdooli concludes, "we must consider how ICT can enhance citizens' inclusion and participation, increase social welfare and cohesiveness, and improve access to knowledge and opportunities."