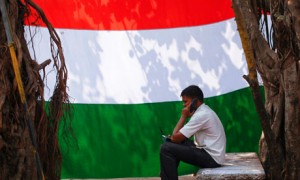 India's Supreme Court has declined to alter its decision of changing Sistema's mobile licences for its mobile services joint venture, it was reported last week.
The joint venture of the Russian conglomerate was one of several companies that lost 2G mobile licences, after the court last February struck down 122 licences across 22 service areas because of irregularities in their allotments in 2008. The Supreme Court on Thursday declined to accept a curative petition from Sistema, which could have led to the review of its earlier decision.
The licences and spectrum were sold at basement prices, and the foreign companies that invested in Indian companies that bagged the licences paid in contrast whopping sums for their stakes, the Supreme Court said last year.
A report by the Comptroller and Auditor General of India (CAG) in 2010 said that the country had lost about US$39 billion as a result of the irregular allocations.
The court asked the government to auction the spectrum released as a result of its decision. Sistema lost 21 licences as a result of the court order.
Sistema Shyam TeleServices, the Indian joint venture, said in an emailed statement on Thursday that it remains committed to its operations, but it would be up to the shareholders to decide "the go-forward strategy" of the company. The joint venture said it believes it has been unfairly penalised by the Supreme Court's order last year.
There is no finding or suggestion by the CAG report that the CDMA spectrum that Sistema applied for in 2008 was equally or anywhere near in demand as the GSM spectrum, the Russian group has said previously.
Besides Sistema, the joint ventures of NTT DoCoMo, Etisalat and Telenor lost licences and spectrum as a result of the court decision.
The government's auction of spectrum in November, however, met with little interest from mobile services operators because of the high minimum price for the spectrum and also because the Indian mobile market appears to have reached a plateau, analysts said.
Five companies participated in the auction of the 1800MHz spectrum for GSM and 102 blocks of 1.25MHz each were auctioned for a total of 94 billion rupees ($1.7 million). However, no bids were received for four of the 22 service areas for 1800MHz spectrum and there were no bidders in any of the 21 service areas in which 800MHz spectrum for CDMA was offered.
Telenor bid in the auction, while Sistema decided on the legal route to recover the licences it lost.
The government now plans a new auction of unsold spectrum and has cut the minimum bid price for 2G spectrum, to be used by operators of CDMA services, in half, besides a 30 percent cut in the reserve price for GSM spectrum.