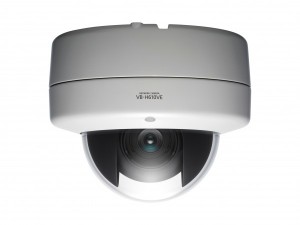 Canon has taken its first step into the Middle East security camera business, having launched a full range of IP (internet protocol) cameras at the recent Intersec security conference in Dubai.
"We see a huge demand for security products in the region, and by being so strong in the imaging business, foraying into the surveillance camera market was only a natural progression for our company," said Hendrik Verbrugghe, Marketing Director, Canon Middle East.
The new range of Full-HD IP cameras includes the VB-H610D, VB-H41, VB-H71 and VB-H610 VE, which were shown off during a live demonstration at Intersec. Canon also showcased solutions from software partners Genetec and Milestone.
The VB-H41 IP camera features a 20x optical zoom lens with 12x digital zoom, meaning it can deliver a total of 240x zoom, Canon said, also claiming that the camera is best in class for Full HD video viewing.
The VB4610D, meanwhile, packs an ultra-wide 112-degree-angle lens, with 3x optical zoom and 4x digital zoom. Canon said its features allow the view to "see everything".
The new products support the ONVIF communication protocol, and are compatible with a range of third-party ONVIF-compliant equipment, Canon said.
Verbrugghe claimed that Intersec was the perfect platform on which to launch its new range of security cameras, as it provided the opportunity to meet with new and existing partners and resellers, and update them on its business strategy in this product segment.
"Canon's participation at the show provided a great opportunity to show the market what makes Canon's security surveillance portfolio stand out from the competition," he said. "The latest range of security cameras represents a significant milestone for Canon and a compelling proposition for our partners and their customers."