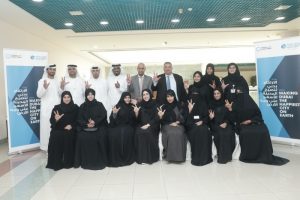 Smart Dubai has collaborated with the Community Development Authority to organise a workshop to explore standards and requirements that help private-sector websites and smart applications cater to people with disabilities.
The workshop is a first step in an initiative that seeks to directly involve disabled people in the design process of website and app interfaces. The workshop encouraged them to express their views and observations regarding certain websites and smart applications, in addition to training them to contribute effectively to the design process.
Her Excellency Dr Aisha bint Butti bin Bishr, Director-General of Smart Dubai Office, said it was elemental for the government and private sectors in Dubai to work together.
"At Smart Dubai, we are confident in our ability to collaborate with everyone to affect real, positive change in people's lives and bring them happiness," H.E. Dr Aisha said. "To that end, we carry on with our mission to offer innovative, fast, and seamless services for citizens, residents, and visitors, all in an effort to make Dubai the happiest city on Earth."
Meanwhile, H.E. Wesam Lootah, CEO of Smart Dubai Government Establishment, said, "The redesign process targeting websites and applications in Dubai's private sector is another step forward in Smart Dubai's mission to transform Dubai into a disability-friendly city by 2020. We will work to ensure that all electronic platforms – in both public and private entities – cater to the needs of 'people of determination'. The UAE has always operated under the mantra: 'People are our most valuable asset.'"
"In this first phase, we will organise workshops specifically designed for people with disabilities, allowing us to communicate directly with them and to identify what they need from websites and services provided by the private sector," H.E. Lootah continued. "In later stages, we will establish communication channels with the private sector, and work with them to ensure that their smart services and websites are easily accessible to this segment of society.".
H.E. Ahmad Abdul Kareem Julfar, Director General of CDA, stressed that having an inclusive and enabling environment for "people of determination" is a must to allow them full access to all their rights. H.E. Julfar pointed out that the smart transformation that the Dubai Government is witnessing would make it easier to adopt services that their meet the needs.  "All of the services we develop for people of determination depend, first and foremost, on their requirements. We always make sure that they have a say in what would be provided to them; this kind of session allows us to accurately identify the current gaps and find the best solutions to address them."