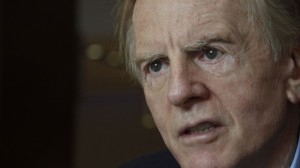 John Sculley is perhaps most famously known for his successful and ultimately controversial tenure at Apple. Directly off of his success with the "Pepsi Challenge" campaign at Pepsi Cola Co., Sculley was recruited by Apple in 1983 to support the sales of the Apple II as work on Mac was completed. By the time Sculley left Apple in 1993 revenues of the iconic company had increased by an astronomical 1000 percent. While at Apple he was named "Marketing Man of the Year" by Advertising Age and AdWeek, solidifying his position as one of this generations great marketers.
Since leaving Apple, Sculley has invested in a number of companies in their early stages. He has put his marketing expertise behind companies that he sees as "game changing," those that will transform the way we look at technology. In addition to the founding of his family investment office, Sculley Brothers, John Sculley has become a mentor for entrepreneurs everywhere. His book "Odyssey: Pepsi to Apple: A Journey of Adventure, Ideas, and the Future" was considered an industry hit, and his follow-up, "Moonshot!: Game-Changing Strategies to Build Billion-Dollar Businesses" is set to become a must-have for in-office libraries.
Sculley dropped into Dubai's Armani Hotel for the launch of his new smartphone line, Obi. Sculley is the co-founder and Managing Partner at Toronto based investment and acquisition company, Inflexionpoint, which has launched the new consumer technology venture with the flagship 5-inch octa-core smartphone, the Octopus S520; the Hornbill S551; the Falcon S451; the Wolverine S501; and a power bank feature phone, the F240.
CNME's Deputy Editor Annie Bricker sat down with Sculley at the regional launch event to discuss the company's role in the smartphone market and the massive changes marketing has seen since his start in the 1970s.
Obi had an exceptional reception following their release in the Indian market. Do you think that its possible to duplicate such a success in the UAE market considering consumers in the region are often luxury and brand focused?
I think that the aspiration will work everywhere. The aspiration at Obi is very similar to what we built at Apple, with the idea that we are selling not the technology but the experience. What is happening now in mobile devices is that they have become a commodity with numerous companies jumping in to sell products that look like each other. The people who were market leaders for a number of years are now losing money. There are people that would love to have an iPhone 6, but simply cannot afford to make that kind of purchase. These people are likely young, and want to make the smartphone a large part of their personal life. In response, we have built a company that is very lean and carries very little overhead. We lag around six to nine months behind the industry technology as it commoditises and put our focus, rather, on design.
Looking at your team, it seems that you have been leveraging your time at Apple by bringing over some of the top players from your time. Who has joined you on this project?
We have put together a fantastic design team in Silicon Valley. While other companies are developing phones in places like China, we are designing our product in Silicon Valley and then build them wherever the best technology is to build them, much as Apple does. In fact, the team we have are by and large former employees of Apple. We have the former head of product design, Robert Brunner from Ammunition, who just worked on Beats headphones. We have the former chief marketing officer at Apple Satjiv Chahil as well. We are bringing people together who know how to build beautifully designed products. We are also bringing together an amazing marketing team and you can already see their results. In India, our marketing campaign is already ranked up there with Coca-Cola. It has nothing to do with technology. Our competitors are talking about their features, whereas we are talking about the aspirations for young people to express themselves. With our marketing campaigns, we speak in the language of our young consumers, we bring in edgy music and content. We are also leveraging social media by bringing in Brand Ambassadors on the Internet. What we know today, and why I call this a "Moonshot" is that there is a shift in marketing power from product producers to product owners. Customers no longer pay a lot of attention to big campaigns put on by companies. Instead they pay attention to other customers. They look at product ratings, reviews, links, referrals and messages from other users. We decided to harness that capability with Brand Ambassador all over the world. In that way we are building a truly global brand, but only for emerging markets.
Essentially, you are saying that marketing power is now in the hands of the consumers. With Obi's target audience made up of first time or young smartphone owners, how does this new face of marketing effect the Obi campaign?
The way that users treat their phones has changed entirely. We no longer talk on our phones, we send texts. Then, we no longer send texts, we send pictures. Finally, now, we don't even send pictures, we send videos. The phone is now a device by which we share our culture. You will see with this launch – everything we do is about culture. It is about expressing yourself and being who you want to be. It's about breaking a few rules and telling our consumers that it is alright to make mistakes, stand out and be the black sheep of the group. It gives people permission to think about technology not as technology, but as a cultural extension of who you are.
Will Obi ever look to target a higher-end market or will Obi always be an affordable line of devices?
We absolutely have no plans to target a higher-end market. Obi will always remain affordable. We always want to target the youth market. We want to be the complement to what Apple does. Apple is at the high-end and sells to those that can afford it. We are in an affordable price range and we target the youth.
Do you think that may translate into Obi becoming the "training wheels" for an Apple product? As your target audience ages, do you think they will move on to the higher-end option?
No, we don't think of ourselves that way. We believe that Obi truly creates a whole new category in the smartphone landscape. Our customers are young and largely from emerging markets, and that audience will always be there, and seeking a well-designed, affordable product.