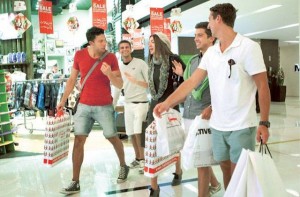 Jumbo Electronics announced on Sunday that it had seen a 50% growth in the sale of smartphones and tablets during this year's Dubai Shopping Festival (DSF) compared to 2012.
The smartphones and tablets segment has grown to become the most popular market in terms of consumer electronics, Jumbo said. The retailer pointed toward by the launch of the new iPad, the iPad Mini and a number of Samsung tablets just before DSF as a reason for the tablet sales figures.
Smartphone sales were bolstered by the likes of the Samsung Galaxy S3, the iPhone 5 and the new, Windows 8-powered Nokia Lumia range, Jumbo said.
"We witnessed clear changes in buying trends, as this year saw a sharp rise in tablets and smartphone sales, as opposed to the previous DSF where smartphones were the top sellers," said Nadeem Khanzadah, Head of Retail, Jumbo Electronics.
"Best-in-market promotions helped maintain strong sales across both these categories," he added.
The first and final weeks of the festival were busiest for both tourists and residents, based on store sales patterns, Jumbo said. The retailer also noted that sales received a boost from residents in general, with many local customers having putting off purchases until they could take advantage of DSF discounts.
"The Dubai Shopping Festival is definitely marked on the international shopping calendar, with many visitors to Dubai aligning their trips with the shopping event," said Khanzadah.
"We also see an upswing trend across all of our stores that UAE residents tend to postpone their major consumer electronics purchasing until DSF, and shop in huge numbers during these four festive weeks."
Jumbo has been associated with DSF since its inception in 1996, and continues to partner with the festival as a key sponsor every year.