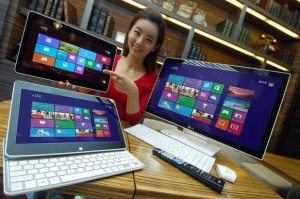 Net Application's January desktop usage data was released last week, showing that Windows 8 adoption has been worse than Vista's was after just three months of it being released.
However, Microsoft found a silver lining in the form of data that showed Windows 8 adoption was quickly catching up to Apple's OS X Mountain Lion, and that the Mac OS should end up being overtaken.
Three months after its release, Microsoft's new-look operating system was found on 2.26%of all the traditional PCs tracked by Net Applications, whose web measurement network is comprised of 40,000 websites that receive roughly 160 million unique visits each month. By comparison, Windows 7 claimed a 7.57% browser share at its three-month mark, while Windows Vista was sitting slightly less pretty with a 3.3% share three months in.
The monthly gulf between Windows Vista's uptake and Windows 8's uptake is only widening, in other words. People still consider Windows Vista to be a stinker, rightly or wrongly, and that reputation no doubt helped to fuel Windows 7's lightning-fast adoption. Conversely, Windows 7's all-around excellence is likely holding back Windows 8 – there simply isn't a compelling reason to leap to Windows 8 and its redesigned, modern UI if you're a happy Windows 7 user.
Don't be hasty to blame Windows 8's slow uptake on declining PC sales, either. While the computer industry did suffer a contraction in 2012, digging through data from Gartner reveals that just over 90 million PCs were sold in the fourth quarters of both 2009 and 2012 (the launch windows for Windows 7 and 8, respectively). In fact, about 300,000 more PCs sold in the fourth quarter of 2012 than in 2009. The appearance of Windows 7 gave PC sales a tremendous shot in the arm, however, while Windows 8's launch has not.
The news isn't all bad for Microsoft, though. The various Windows iterations still account for nearly 92% of all desktop visitors to Net Application's websites. Windows as a family is doing fine, even if Windows 8 is struggling to make an impact.
Plus, while Windows 8 might not be living up to the usage standards established by its forebears, it's almost caught up to Apple. Mac OS X 10.8 – otherwise known as "Mountain Lion" – has been available since all the way back in July, and it still only claims a 2.44% usage share in Net Application's report, despite the appearance of new iMacs and Retina Display-packing MacBook Pro laptops. Expect Windows 8's usage share to sneak past Mountain Lion's this month.