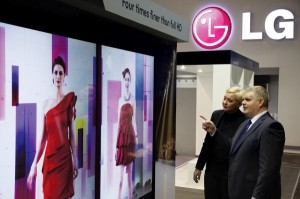 LG Electronics last week unveiled a broad range of new digital signage products at the Integrated Systems Europe (ISE) show in Amsterdam.
Many of the new products featured advanced, energy-efficient IPS panels, and included, among others, the world's first 84-inch Ultra HD multi-touch signage, Smart Mirror and transparent display, the vendor said.
The flagship piece was by far and away the 84-inch 84WS70, which is, according to LG, the world's largest Ultra HD signage with four-times the screen resolution of a traditional HD display.
A multi-touch version was also demonstrated by showing off interactive capabilities with Google Maps. Visitors to LG's booth were able to take a virtual tour using Street View in ultra high definition. The firm said that this model, the 84WT70 is ideal for displaying interactive information in educational settings, museums, art galleries, shopping malls and department stores.
Three-dimensional displays were also a core part of LG's presence at ISE, with the firm's stand featuring a 3D "video wall" consisting of 49 55WV70MD displays. This 55-inch unit features one of the world's slimmest bezel-to-bezel measurements, at just 5.3 millimetres, making the "video wall" seem as if it were just one giant display.
LG explained that its new 3D displays are ideal for theme parks or motor shows, thanks to LG's proprietary Film Patterned Retarder (FPR) 3D system, which employs economical, light-weight and battery-free 3D glasses.
LG also previewed the WX50MF IPS signage display, which shines at a bright 2,000 nits. The firm pointed out that competing 1,500-nit displays black out at 85C, while its new model stays bright up to 110C.
LG claimed that this new model was so energy efficient that it could reduce the energy cost by up to 30% when compared to using competing products.
"Our strong 2013 line-up utilises the latest IPS display technology to provide superior picture quality for a wide range of commercial applications," said Havis Kwon, President and CEO, LG Home Entertainment.
"Clearly viewable from practically any angle, LG's digital signage solutions are capable of holding the consumer's attention in any setting, indoor or outdoor."