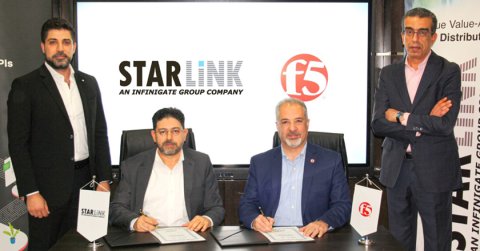 Starlink, an Infinigate Group company, today announced a key milestone in its ongoing partnership with F5, a market leader in multi-cloud application services and security.
The two companies have agreed to expand their existing partnership to include the Kingdom of Saudi Arabia (KSA) and Bahrain. Starlink can now provide coverage for F5's solution portfolio across Saudi Arabia, Bahrain, Kuwait, Oman, Qatar, the United Arab Emirates, Jordan, and Lebanon.
"Our partnership, which started in 2021, has evolved immensely. Today we are excited to take it to the next level", commented Mahmoud Nimer, MEA President, Starlink, an Infinigate group company. "Starlink, with its profound knowledge of the markets across the Middle East, skilled technical on-ground expertise, as well as its extensive channel network, is ideally placed to represent F5 and further strengthen its ever-growing regional footprint".
This news comes on the back of a strong track record of customer successes to date.  Starlink will now extend this legacy to KSA and Bahrain, helping organisations of every kind to secure, simplify and optimise applications and APIs wherever they reside —on premises, in the cloud, and at the edge.
"The expansion of Starlink's F5 coverage into Saudi Arabia and Bahrain is a big development in our partnership", said Ehab Derbas, Sr. Director, Saudi Arabia & Egypt at F5. "Together, we will offer our entire solution portfolio to help organisations across the Middle East accelerate their digital transformation journeys. This will include a strong focus on cybersecurity, modern apps, and multi-cloud deployments".