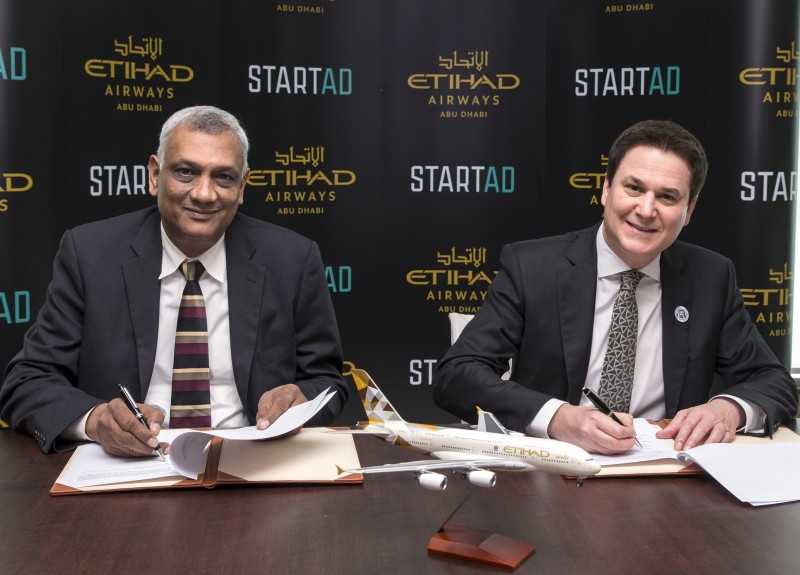 Etihad Airways and startAD have signed a memorandum of understanding to develop the entrepreneurship ecosystem in the UAE through the exchange of knowledge, expertise and training.
The MoU is set to encourage mutual access to training initiatives between the two organisations. startAD will provide access to entrepreneurship skills development to mentors and advisors from Etihad Airways.
Startups that align with the airline's areas of focus will be given the opportunity to connect with Etihad Airways' network of professionals, firms and partner institutions, while innovation and entrepreneurship initiatives by Etihad Airways will receive consultation on design and organisation from startup professionals at startAD, including the provision of hackathons, festivals, panel discussions, and conferences for entrepreneurship.
The agreement was signed by Etihad CEO Peter Baumgartner and startAD managing director Ramesh Jagannathan in a ceremony held at the Etihad Headquarters.
Through the Venture Launchpad, startAD will provide Etihad Airways early access to startups in the key focus areas of the airline.
The startAD Venture Launchpad programme will identify early stage technology startups and help them to develop a scalable, repeatable and capital efficient business model that culminates in an investor day where finalists pitch their ventures to investors.
Jagannathan said, "As Abu Dhabi and the UAE embark on the momentous journey of transforming the region into a global entrepreneurial economic powerhouse, startAD is committed to help in building the national innovation capacity. Through this partnership, Etihad and startAD will further strengthen the UAE innovation ecosystem and accelerate global innovation in aviation."
As a result of this partnership, Etihad Airways will offer domain knowledge and expertise on matters of aviation, big data, logistics, and cargo transportation to startups enrolled with startAD, disrupting the legacy approach in aviation and related domains.  Experts from Etihad will mentor startup teams at the Venture Launchpad programme, Beyond the Pitch programme and startAD ADvance.
Baumgartner, "Etihad is committed to driving innovation. It is part of our DNA, our brand and our customer promise. We are also ultimately committed to foster innovation in partnership – creating an innovation ecosystem with Abu Dhabi and UAE entities.
"startAD is an ideal platform for us to plug into to get access to inspiration and capability, a platform that allows us to make sure projects are carried through to something that creates innovation and intellectual property as competitive advantage for the airline, for Abu Dhabi and for all stakeholders. It's about acting as a catalyst for how Abu Dhabi Inc. should come together with its stakeholders and institutions to jointly create innovation that strongly supports the destination's masterplan."
startAD has recently launched funding platforms for startups in the areas of Fintech and hardware.