StorIT Distribution, the regional specialised value-added distributor in data management puts the spotlight on its range of solutions portfolio, which includes converged infrastructure, cloud computing, virtualisation, DR, data analytics and data centre solutions along with its managed services offering.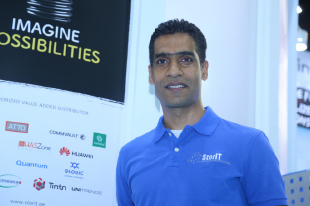 Suren Vedantham, Group Managing Director, StorIT Distribution, says, "It is business as usual for us. We have had a couple of new partnerships earlier in the year such as Commvault. We will be showcasing these new partnerships at this year's GITEX."
According to the Group MD, the company's focused attention on its core business functions has enabled it to grow and maintain its growth year after year.
"We have been selective with whom we partner with. Our focus continues to be on data storage, data protection and data management. We have been in the business for the last 15 years and we have always focused on data management. And as data management domain is growing exponentially, we expect to continue this focus."
"We have factors such as experience, best of product lines and partnerships in our portfolio contributing to our growth story," he adds.
The Group MD urges partners to stick to the fundamentals and stay focused to be successful in the challenging market scenario. Over and above that, he says, it is also important to stay ahead of the industry curve and have the market knowledge.
The distributor is looking to close the year with "strong double-digit" growth.
"Our theme continues to be data management which is the core of what we do.
We specialse in storage, which is always growing and will continue to grow because of the rise in emerging trends such as data analytics and IoT to name a few. We have been in the fastest growing segments of IT. Our business has been built on professional services, knowledge and consultancy, which continues to be our strength."