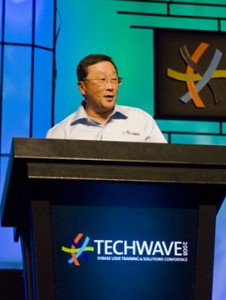 Sybase CEO John Chen is leaving SAP, roughly two-and-a-half years after SAP acquired the company for its database and mobility technologies, SAP announced Tuesday.
"After 15 years of leading Sybase, I want to take on a new challenge," Chen said in a statement. "The integration of Sybase into SAP is complete and the business is in great shape."
In addition, Sybase's technologies "are contributing significantly to SAP's success," Chen added.
In separate statements, top SAP executives highly praised Chen, suggesting there is no ill will behind his departure, which has been somewhat anticipated in recent months given how long SAP has owned Sybase, as well as Chen's generally low public profile of late.
"We thank John for his extraordinary leadership over the past few years," SAP co-CEOs Bill McDermott and Jim Hagemann Snabe said. "We respect John's decision, we know that he will remain a friend of SAP and we wish him all the best for the future."
"John is a pioneer who contributed greatly to the enterprise mobility and database markets, and I am incredibly proud of what we have done together," executive board member and technology chief Vishal Sikka said.
Chen has "done what he needed to do" at SAP, helping transition the company by highlighting its mobility assets and "establishing China as a beach head," said analyst Ray Wang, CEO of Constellation Research, in an interview Tuesday.
Sybase has also provided SAP with some database technologies it will need for its HANA in-memory platform and beyond, Wang added.
In addition, Chen's work at Sybase helped SAP establish further credibility in the financial services market, according to Wang.