Synology has unveiled the Synology Router RT1900ac – a high-speed wireless router featuring robust connectivity for homes and offices, advanced networking tools, rich add-on software packages, as well as a user-friendly software experience.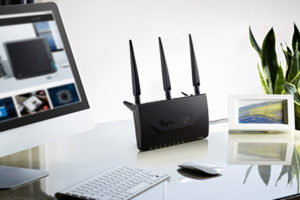 Router RT1900ac is powered by the Synology Router Manager (SRM) operating system, which boasts "professional-level networking tools at a consumer-friendly price point."
According to the company, SRM expands the possibilities of the Synology Router RT1900ac wireless router, "allowing users to enjoy intelligent Wi-Fi connectivity, detailed network management and analysis, strengthened security, and more."
"The router is a critical element for any modern network, and yet it remains often complicated to use. By leveraging our expertise in network-attached storage and maximizing user experience, Synology aims at providing a pleasant, efficient and advanced solution to enthusiastic and professional users," said James Chen, CEO, Synology.
The desktop-like interface provides a fluid and intuitive way for users to manage network and wireless settings. Plus, the DS router app for Android and iOS devices makes it possible to monitor and change settings on Synology Router RT1900ac from anywhere.
In addition to the standard four Gigabit Ethernet LAN ports, the router is equipped with three adjustable long-range antennas and 802.11ac wireless technology, allowing for combined transfer speeds up to 1900 Mbps.
It also comes with a dual-core 1.0 GHz processor for "smooth performance," even when multiple clients are connected. The USB 3.0 port and SD (SDXC) slot can be used to attach external storage devices.
The RT1900ac is now available for customers in the UAE as well as in KSA and Jordan.