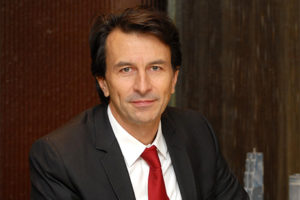 Telefonica and Fortinet have recently announced a strategic alliance agreement that will add Fortinet's Security Fabric architecture into Telefonica's portfolio of managed security services.
According to both companies, the agreement underscores Fortinet as a strategic security infrastructure partner to deliver solutions integrated with some of Telefonica's key managed security services, which include, the CleanPipes service, ElevenPath's FAAST persistent pen testing and virtual patching solution, and ElevenPath's Metashield Protector service.
Fortinet is the security infrastructure provider used for all Telefonica's CleanPipes deployments worldwide today and will continue to be a part of the evolution of the service architecture. Telefonica customers will benefit from the combination of Telefonica's strategic security services and Fortinet's Security Fabric.
While technology trends like IoT and cloud computing are blurring the edges of the network today, Fortinet's Security Fabric, combined with ElevenPaths' products and security services from Telefonica enables customers to benefit from a scalable, broad threat protection solution without compromising agility or performance. Telefonica customers can leverage highly advanced hardware and software, enabling direct communication between security solutions for a unified and rapid response to threats. In addition, the Fortinet Security Fabric, powered by the FortiASIC content processor and FortiOS security operating system enables customers to implement internal segmentation and other innovative security strategies to deliver comprehensive threat protection across the expanding attack surface.
Patrice Perche, Senior Executive Vice President, Worldwide Sales and Support, Fortinet, said, "We have worked together with Telefonica for nearly 15 years. This successful partnership is the result of our shared goal – to provide the security technologies customers need to protect and grow their businesses. As Telefonica expands their coverage areas, network service offerings, and customer base, they need a security partner to help them still maintain high performance at scale without business disruption. Their extensive experience in security and communication networks, expert workforce and development of intelligence-driven managed security services means their customers are in safe hands."
Telefonica's security approach leverages the services and technology that have gained them recognition as a security solutions thought leader. In-house innovations are combined with strategic partnerships to deliver a complete managed information security offering. This allows customers to achieve business-critical security objectives while keeping operating costs predictable and helping busy IT teams stay ahead of security issues.
Pedro Pablo Pérez, ElevenPaths' CEO and Telefonica Global Security Managing Director, said, "Our customers face a shortage in security talent today as well as stringent regulations and compliance re-quirements. This is compounded by an ever-changing cyber threat landscape. In order to succeed, they are turning to partners to help them implement the processes and technology required. A critical differen-tiation that Telefonica and Fortinet provide to customers is adaptive and intelligent security technology. Fortinet's Security Fabric combined with Telefonica's ElevenPaths products provides a cohesive, intelli-gent security offering that sees and protects distributed environments, which means they can build and enforce seamless and consistent security policy on local and cloud networks, or across advanced architectures."