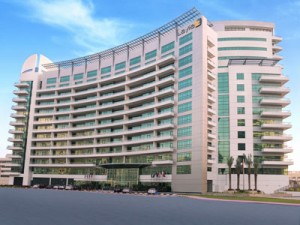 UAE-based TIME Hotels has selected Avaya to outfit its mid-tier hotels and long-stay apartments with Avaya hospitality solutions for wireless and telecommunications services.
Avaya has deployed a mix of networking, Unified Communications (UC) and IP Telephony offerings to five TIME properties located in Dubai and Sharjah, enabling all to be managed remotely via a single, central network for guest and staff communications services.
"TIME Hotels is a valuable addition to Avaya's growing hospitality portfolio," said Fredrick Sabty, director of hospitality solutions for emerging markets at Avaya.
"With value for money as a central element of TIME's operations, Avaya has ensured an affordable yet robust communications solution which affords return on investments as well as scope for growth as TIME properties expands across the Middle East and Africa region," he added.
Avaya has currently equipped 590 rooms in TIME Hotels properties with Avaya telephony services and unified communications features such as One-X client to ensure that calls bound for an employee's business number or extension will ring simultaneously on both office and mobile phones.
In addition to enhancing employee productivity, Avaya's hospitality solutions enable TIME to centrally manage its entire network across its hotel portfolio.
In addition to the TIME properties, leading hotels in the Middle East such as the Burj Al Arab and Atlantis use Avaya's communications solutions to deliver help customer service and experience.
"Connectivity is vital for both corporate and leisure travellers. Avaya, in conjunction with our system integrator and key business partner Future Technology, has provided TIME's hotels and apartments with a reliable, cost-effective communications platform which enables us to deliver superior customer service while enhancing our guests' experience," said Thomas Huber, corporate director of IT at TIME Hotels.
"A flexible and reliable communications network is critical to our competitiveness within the Middle East's growing hospitality sector," he added.