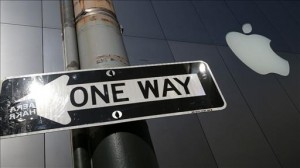 In an effort to return cash to investors, Apple is reaching out to the debt market and offering US$17 billion in bonds, the biggest non-bank bond offering in history, according to a report by The Wall Street Journal.
The bond offering comes after Apple announced last week that its board of directors had approved a plan to return $100 billion to shareholders through the end of 2015. That plan adds $55 billion to a previously announced capital return programme.
The Apple offering has been oversubscribed and has generated in excess of $50 billion in new orders, the WSJ report said Tuesday, citing sources.
Apple did not immediately return calls for comment.
A majority of Apple's cash reserves — in excess of $100 billion — resides overseas, and a bond offering is a financially sound way to return cash to investors, said Bradley Gastwirth, CEO of ABR Investment Strategy, an investment advisory firm.
Apple is using the markets to raise money so it doesn't have to repatriate the cash reserves from abroad, Gastwirth said. Bonds are extremely cheap, at historically low rates, Gastwirth said. Repatriating funds from abroad could incur U.S. taxes, so Apple is saving by using the debt market to raise money.
"There was a tremendous amount of interest in this deal, which keeps the rate lower for Apple," Gastwirth said.
Investors are moving away from money market funds, and feel comfortable buying bonds for better and more consistent yields, Gastwirth said. The bond offering — which is open mostly to institutional investors and not individual buyers — provides the security of getting paid back by Apple over a period of time.
A lot of large companies, including Microsoft, are taking advantage of the bond markets, Gastwirth said.
Apple has come under increasing pressure to share its $145 billion horde of cash with shareholders. The pressure has grown especially intense in recent months as Apple's share value tumbled from its high of about $705 last September.
The company's shares have dropped 17 percent in value since the beginning of the year. Apple has faced increasing pressure from Samsung, which has emerged as the market leader in smartphone sales globally.
Reporting results for the quarter ending March 30, Apple last Tuesday said that revenue was $43.6 billion, increasing from $39.19 billion in the year-earlier quarter, but that profit declined year over year to $9.5 billion from $11.6 billion — its first earnings drop in net earnings in a decade.
The market cheered the news about Apple's bond deal, however. Company shares rose 2.9 percent Tuesday to close at $442.78.