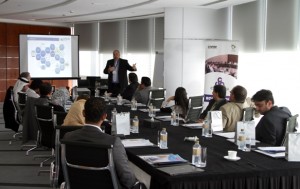 Senior IT executives gathered in Jumeirah Emirates Towers on April 24th to discover how enterprise architecture can help them avoid a 'spaghetti incident'.
April saw CPI partner with Orbus Software and HTP Global Technologies to host two exclusive roundtables to provide valuable insights into enterprise architecture (EA) – a practice which continues to gain significant momentum amongst organisations in the Middle East.
New innovations have never arisen at a faster rate than today. As these trends continue to take companies by storm, EA has emerged as a vital practice to align these technologies with older systems, and to translate business strategy into ROI.
A common theme throughout the roundtables was the apparent lack of awareness and understanding of what EA is, and what it can do for an organisation. However, the general response leant towards the observation that it is a very necessary tool as new applications and technologies continue to transform businesses.
Louw Labuschagne, Enterprise Architecture Consultant and Trainer, provided an analysts' insight into EA, stating that untangling an IT environment requires planning and management.
Labuschagne cited research by Forrester showing that CIOs currently spend 60% of their time as "chief maintenance officers", meaning they "have to devote several hours a day to making sure that all the IT infrastructure and applications are running smoothly."
However, he continued, Forrester envisions a shift to an era of what it calls "empowered business technology" (EBT), in which business units are more involved in deciding what their technology needs are and how to achieve them.
"This transition would greatly reduce the number of hours that CIOs spend as chief maintenance officers and allow them to devote a good deal more time and energy managing things like risk, vendors and innovation," Labuschagne said.
Citing a different research firm, Labuschagne said Gartner is advising corporations to adopt a new style of enterprise architecture called "emergent architecture," which it says is necessary to respond to the growing complexity in markets, economies, networks and companies.
Furthermore, Labuschagne was keen to emphasise that EA should not be seen as a project, but as a continuous process. He introduced the key frameworks and standards that provide practical guidance when tackling an EA project or implementing an EA capability.
The roundtables also highlighted what international standards – of which TOGAF saw the most mentions – are available to use when selecting, building and deploying enterprise architecture in an organisation, as well as an overview of ISO standards.
Attendees of the event were treated to three case studies from leading organisations that have already implemented enterprise architecture – Ooredoo, DP World, and Abu Dhabi Health Services Company (SEHA).
Joseph Foster, Corporate Enterprise Architect, SEHA, gave the first account of enterprise architecture in action, before Steven Leslie Green, Assistant Director IT Architecture and Applications, Ooredoo, gave the perspective of a leading telecoms company. Current architectures are "accidental," Green commented.
"Accidental architecture evolves over time into a complex, costly, difficult, and slow-to-change information systems architecture, which has to react to changing priorities and strategies," he said.
"The vision is a coherent set of standardised building block-based business processes, applications, data and infrastructure, intended to ensure quality and predictability of core transactions, along with flexibility, agility and efficiency."
During DP World's case study, Ibrahim Al Najjar, Manager, IT Planning and Support System, highlighted the benefits in using an EA tool.
These included a "significant reduction" in the effort needed for collecting, managing, validating and reporting on elements of an enterprise architecture, as well as improved business buy-in and visibility of EA work.
On top of this comes the ability to make ability to make informed business decisions that would not otherwise have been possible, the reduction in operating costs due to the discovery of redundancies, and increased business and IT agility due to architecture standardisation, Al Najjar added.
During discussions at the end of the roundtables, it was clear that enterprise architecture, whilst being under exposed in the industry, is set to gain significant traction in the Middle East, as organisations look to improve business performance and productivity.