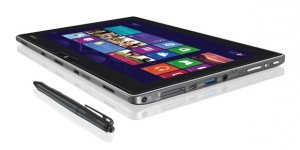 Toshiba has announced its WT310, a Windows 8 tablet to rival Microsoft's Surface Pro. 
With Windows 8 Pro, an 11-inch Full HD screen and an Intel Ivy Bridge Core processor, Toshiba is taking aim the Surface Pro and other business tablets like the Lenovo ThinkPad Tablet 2. The WT310 will launch in the U.K. by the end of June but no price has been announced.
Toshiba said, "Optimised for business use, the WT310 includes a comprehensive range of features designed to aid mobile workers, no matter what job is at hand."
As well as an 11.6-inch Full HD touchscreen, the WT310 comes with a DigitizerPen stylus for accuracy and also hand writing notes, which can be converted into an editable document. The Intel chip is accompanied by a solid state drive (SSD) for additional performance.
Connectivity includes a full-size USB 3.0 port, micro-HDMI, an SD card slot, Wi-Fi with Intel Wireless Display and optional SIM-card slot for HSPA+/ 4G LTE support. An optional docking cradle adds extra ports for connecting devices like a keyboard, mouse or external hard drive.
Toshiba said the WT310 has a 'resilient plastic coating' which protects components if the tablet is dropped or is exposed to heavy pressure. The device comes pre-installed with Intel Anti-Theft software and the Trusted Platform Module (TPM), which safeguards local data.
"IT managers can also monitor, maintain, repair and upgrade the WT310 remotely, thanks to the Intel Active Management Technology on selected models, ensuring mobile professionals are always running the latest system updates." added Toshiba.