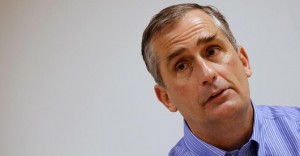 After a vetting process that lasted a little more than six months, Intel has named Brian Krzanich as its next CEO, succeeding Paul Otellini, who will officially hand over the reins of the chip giant at the company's annual stockholders' meeting on May 16.
Otellini announced on November 20 last year that he would retire in May after four decades with the company, of which eight years were as the company's CEO.
Krzanich, who has worked as chief operating officer and senior vice president up until now, beat other internal candidates being considered for the post, according to industry insiders. They included Stacy Smith, Intel's CFO and senior vice president and Renee James, senior vice president and general manager of software and services.
The board of directors also elected James, 48, to be president of Intel. She will also assume her new role on May 16.
All three were promoted to senior vice president on November 20, the same day Otellini's retirement was announced.
"After a thorough and deliberate selection process, the board of directors is delighted that Krzanich will lead Intel as we define and invent the next generation of technology that will shape the future of computing," said Andy Bryant, chairman of Intel, in a statement Thursday.
"Brian is a strong leader with a passion for technology and deep understanding of the business," Bryant added. "His track record of execution and strategic leadership, combined with his open-minded approach to problem solving has earned him the respect of employees, customers and partners worldwide. He has the right combination of knowledge, depth and experience to lead the company during this period of rapid technology and industry change."
Analysts have said that recent CEOs at Intel were appointed at the time of directional changes for the company, whose core business of laptop and desktop chips has struggled with the slowdown in the PC market. Otellini's successor will have the task of maintaining Intel's top spot in the slumping PC market while trying to dislodge ARM from the fast-growing mobile market.
Intel's processors are used in just a handful of mobile phones and tablets, and 52-year-old Krzanich will have to a get device makers to adopt the company's mobile Atom processors. Intel has poured millions of dollars into smartphone and tablet chip development as it tries to take market share away from ARM, whose processors are used in most tablets and smartphones.
It will also be up to the new CEO to fix a faltering strategy around ultrabooks, which Intel is pushing as a new category of thin-and-light laptops with tablet features. Ultrabooks were introduced to reinvigorate the PC market, but product sales have been slow because of high prices.
Analysts have also pointed out that Intel could focus more on a foundry strategy and expand operations for making chips for third parties. Intel's fabrication plants are considered more advanced compared to those of rivals GlobalFoundries, Samsung, and TSMC (Taiwan Semiconductor Manufacturing Co.) Intel has historically used its manufacturing assets to make chips for itself, but has recently opened up to the idea of becoming a contract manufacturer. Intel makes chips – mainly high-margin FPGAs – on a limited basis for third parties such as Altera, Tabula and Achronix.
Otellini became Intel CEO in 2005 just as the company was struggling to keep up with chip development and losing processor market share to rival Advanced Micro Devices. Otellini put in place the famous "tick-tock" strategy that brought out updates to chips on a yearly basis. That stabilised product releases, development and chip manufacturing cycles. In addition to winning back market share, Otellini played a key role in Apple's shift from the PowerPC processors to x86 chips on Macs in 2005 and 2006.
Otellini also guided Intel through multiple antitrust cases and expanded product offerings through acquisitions of companies such as Wind River and McAfee. Intel also acquired networking firm Fulcrum, and assets from Qlogic and Cray, with which the company is expanding its data center offerings. Intel also bought wireless assets from Infineon which are expected to be integrated into smartphone and tablet processors.
But for all his achievements, Otellini's reign had its rough times. He failed to quickly adapt to the fast-growing mobile market, but made up by accelerating development of the Atom chips. Otellini was also a champion of Ultrabooks, which have so far failed in the market.