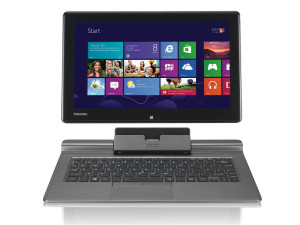 Toshiba Gulf recently launched the Portégé Z10t, an Ultrabook–tablet hybrid that the vendor said is designed for the professional environment.
The device targets a specific market of users who need a single, portable device that is both a full-size laptop and a Windows-powered tablet, addressing functions that are needed for work.
Powered by the latest Intel Core processors, Toshiba said that the new device delivers excellent speed and performance, as users may expect from a device built for business. The 11.6-inch, Full HD touchscreen display can be detached from the keyboard instantly to turn it into a tablet. There is also a built-in digitiser for those who want to write and take notes on the screen, providing a technology that effectively mimics the handwriting experience.
"The Portégé Z10t is meant to help professionals boost their productivity at a maximum level. With its detachable 0.49-inch, 1.91-pound tablet, it gives users the portability they need when travelling, and the flexibility required to get the work done in no time," said Santosh Varghese, General Manager, Digital Products and Services, Toshiba Gulf FZE.
The Z10t will be available with both Windows 8 and Windows 7, and will be hit the market in July 2013, Toshiba said.