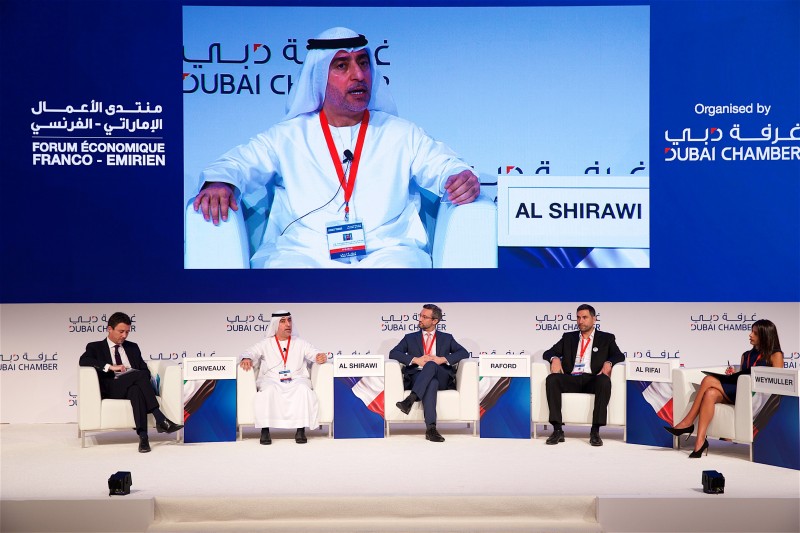 Government and business leaders from the UAE and France called for strategic cooperation between the two countries in the areas of innovation, mobility and sustainability, during the UAE-France Business Forum in Dubai.
The event was organised by the Dubai Chamber of Commerce and Industry in cooperation with the French Embassy in the UAE, Business France, and the French Business Council in Dubai.
In his welcome remarks, H.E. Hamad Buamim, President and CEO of Dubai Chamber, spoke about the strong trade and investment ties that the UAE and France share, and noted that there is plenty of scope to expand collaboration to new sectors and areas such as Smart City solutions, sciences and healthcare, blockchain and other innovative technologies.
Dubai Chamber's President and CEO stressed on the importance of the Forum as an innovative platform for new partnerships between French and UAE businesses, adding that the event supports the aims of both countries to diversify their economies and develop capabilities in new industries.
Giving his opening remarks, H.E. Benjamin Griveaux, State Secretary to the Ministry of Economy and Finance, said that the decision of H.E. Emmanuel Macron, President of France, to visit the UAE on his first mission to the Middle East is not a coincidence, and reflects the strong relations between the two countries.
H.E. Griveaux noted that the forum provided an ideal opportunity for the UAE and France to celebrate their partnership and strengthen bilateral relations in the future, especially with Dubai Expo 2020 around the corner. He pointed out that mobility-focused French companies have been very active in the UAE, adding that a number of them are developing Al Maktoum International Airport, which is set to become the biggest airport in the world.
Three panel discussions were held during the event which focused on the three sub-themes of 'Opportunity, Mobility and Sustainability,' where industry experts shared knowledge and insights, and discussed prospects for future cooperation in these areas between UAE and French businesses.
The first panel discussion entitled "How to Nurture Innovation: Perspectives from UAE and France."
In the panel, H.E. Hisham Al Shirawi, 2nd Vice Chairman of Dubai Chamber explained how the UAE has adopted a holistic approach to fostering innovation which involves close cooperation between government entities, the private sector and academic community. He added that this model has served the country well, enabling it to accelerate progress in this area.
On the other hand, H.E. Griveaux Benjamin Griveaux, State Secretary to the Ministry of Economy and Finance shared his view that governments have a primary responsibility to provide a long-term mechanism to stimulate innovation, and explained that market alone cannot fund innovation and needs government support through appropriate legislation and spending on innovation-focused initiatives and incentives.
The second panel discussion, entitled "Smart Mobility: The Path to Emirati and French Sustainable Development."
As a major regional and international logistics center, Dubai has made a great deal of progress in improving business efficiency, attracting new investments, and creating value for companies operating in the Emirate, H.E. Mohammed Al Muallem, Senior Vice President and Managing Director of DP World, and CEO of JAFZA pointed out.
Meanwhile, Jean-Charles Decaux, Co-Chief Executive Officer, JCDecaux, lauded Dubai for its wise leadership and commitment to making innovation the basis of its future plans, and pointed out that regulation is a key factor in developing successful business models that focus on mobility and logistics. He called for more cooperation within the academic community to develop systems that promote smart mobility within societies.
Joining the third panel discussion on, "UAE and France Common Ambitions on Future Energies."
Speaking on the topic of sustainability and common ambitions between the UAE and France on future energies, Mohamed Jameel Al Ramahi, CEO of Masdar, said, "Masdar has a long-standing partnership with France and the French business community – one that reflects the warm ties between our two countries. Today, we are working together across the sustainability domain – in utility-scale solar power, energy efficiency, mobility, desalination, and waste to energy, among other fields."
During the panel H.E. Saeed Al Tayer, Managing Director of DEWA explained that the ambitious vision and forward-thinking leadership in the UAE has been the main catalyst in implementing strategic initiatives to diversify the country's energy mix. He revealed that Dubai's investments in clean energy are expected to reach $30 billion by 2030.
Dubai Chamber signed a memorandum of understanding (MoU) with Paris Île-de-France Regional Chamber of Commerce and Industry on the sidelines of the event. The agreement aims to enhance cooperation and coordination in the fields of entrepreneurship, innovation and economic exchange, particularly in the sectors of transport, services, industry, innovation, sustainable development, food industries, and urbanisation.
A second MoU was signed between Dubai Chamber and Medef International to facilitate economic dialogue between business communities in the UAE and France, with the aim of promoting cooperation and creating mutual benefits.
Members of the French Tech Hub Dubai also participated in the Forum and shared their views on cooperation between the UAE and France on nurturing innovation. French Tech Hub Dubai UAE gathered more than 370 people, from around 50 companies.