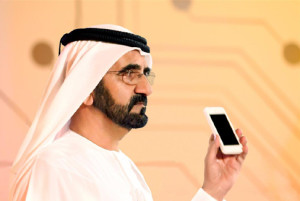 The UAE mGovernment has announced the launch of its 2015 mGovernment training programme.
Following a record number of individuals to have completed the 2014 programme, the training comes as a continuation of the efforts by the UAE government to develop the competencies of the nation's workforce.
Throughout the UAE, 1,150 employees at federal and local government entities, along with 250 jobseekers and university students have successfully received the training programme.
The programme consists of a variety of events and training courses, designed specifically to meet the needs of all parties across the UAE relevant to the mGovernment initiative.
The training courses and events provide training in using high-value smart services, and will host a variety of seminars, lectures, and interactive demonstrations which focus on management topics, information technology, security and development of smart applications.
"Following the great success of the mGov training programme in 2014, we are keen to have individuals participating from all the Emirates, as we begin the 2015 edition," said H.E. Hamad Obaid Al Mansoori, Director General, UAE mGovernment. "By showcasing smart services, information technology, security applications and development we are enforcing the efficiency desired in the mGovernment initiative. It is encouraging to see the numbers of individuals actively participating in the programme and positively responding to our efforts. As such, we would like to thank the federal government bodies for their support and ongoing interest to achieve the vision of our nation."
In order to develop the competencies of staff in UAE government entities, as well as university students, the training will be held through distance-learning techniques.
Participants can use their personal computers and smart devices, to access the course.
"It is necessary to also involve the nation's youth and upcoming workforce in the mGovernment training programme, as they are an integral component of the UAE's transition into a smart nation," Mansoori added. "We believe that this era's job seekers and university students need to constantly stay updated and hold the necessary qualifications, regardless of which Emirate they reside in."