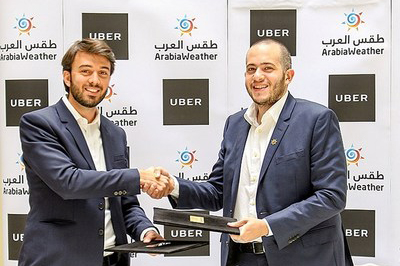 Uber has partnered with ArabiaWeather to leverage their technologies to provide people with weather forecasts and better access to Uber rides, with the companies claiming severe weather conditions had inspired the tie-up.
The partnership allows visitors of ArabiaWeather's platforms in Jordan and Saudi Arabia to sign-up for an Uber account when checking local weather conditions in their area.
As part of the partnership, Uber will be part of  the weather company's communication channels, and the firm has created a promotional code to offer first-time users who sign-up through ArabiaWeather platforms and gain 50 percent off their first two rides.
"We are very pleased to be partnering with a pioneering company such as Uber, which has demonstrated true leadership in the sharing economy and the realm of innovative technologies," ArabiaWeather Founder and CEO Mohammed Al Shaker said. "There is a natural synergy between the services that we each provide due to a strong positive correlation between weather and people's behaviour in choosing their preferred mode of transportation. Both of our companies are aiming to provide the public with the tools they need to seamlessly plan, prepare and conduct their lives."
Anthony Khoury, Uber Middle East's General Manager said, "We are delighted to partner with ArabiaWeather. Uber is in over 25 cities around the region, and this partnership is aligned with our continuous efforts to provide the largest number of people with safe, reliable and affordable transportation when and where they want it, whether that is on a hot summer day, or a rainy night out in town. As a technology company, with regional players and startups like ArabiaWeather who deliver daily weather conditions to millions around the region."
In Saudi Arabia, the promo code will be AwKSA (up to SR20 off each ride), and in Jordan promo code AwJordan will apply (up to JD2 off each ride).