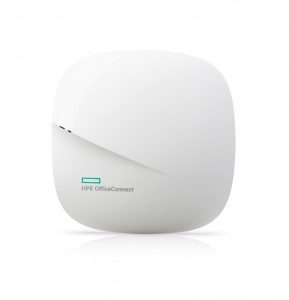 Aruba, a Hewlett Packard Enterprise company, has unveiled a new Wi-Fi solution designed to give small businesses secure and reliable Wi-Fi with easy to set-up APs and an intuitive mobile app. The HPE OfficeConnect OC20 is a cost-effective wireless solution designed for businesses without dedicated IT resources. With OC20, small businesses or their channel partners can rapidly deploy and manage Wi-Fi for small business across all vertical industries.
Aruba's new HPE OfficeConnect OC20 wireless solution addresses challenges of complex configurations by offering small businesses an intuitive and cost-effective wireless solution that is simple to manage without technical expertise. Resellers can now offer small business customers a fast, business-grade Wi-Fi solution that keeps their employees connected and productive, said the firm.
According to HPE Aruba, The OC20 APs deliver high performance and reliable Wi-Fi connectivity to handle today's business critical applications including voice, video and cloud-based applications.
"They intelligently optimise wireless coverage and performance, while minimising interference for a powerful end-user experience. Built-in website filtering blocks access to malicious websites to protect the small business network from online threats, as well as inappropriate or non-compliant websites," said the firm.
Using the OfficeConnect mobile app, a business or its resellers can configure and monitor a network in minutes from any location. Multiple offices can be managed at once, and IT or the user's channel partner can quickly respond to network changes and outages remotely without network downtime.
When businesses are ready to expand their network, new OC20 APs can automatically join the network and will copy their configuration settings from a previously configured OC20 AP. Business owners or their channel partners can create an optional and separate guest network with a choice of open guest access, simple password sign-in or Facebook Wi-Fi log-in, including their company logo for a branded Wi-Fi experience.
The OfficeConnect iOS or Android mobile application offers intuitive remote monitoring and troubleshooting. A network health dashboard provides network visibility at a glance, including information about wireless performance, number of devices, and who is connected to the Wi-Fi network.
In addition to the OC20 Access Point, Aruba also offers the OfficeConnect 1920S switch, which secures and extends small business networks. The 1920S can also be monitored by the OfficeConnect mobile app.