Virtual Vision (V2), has officially opened services for V2 Public Cloud – a public cloud offering based in the Kingdom of Saudi Arabia (KSA) initiated in partnership with CloudSigma and Hewlett Packard Enterprise (HPE).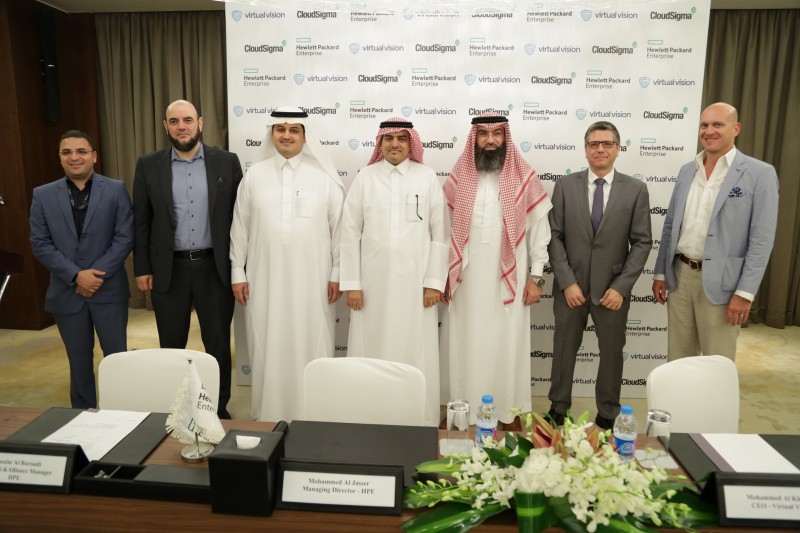 The V2 Public Cloud allows V2 to extend their diverse portfolio of services for companies across all industries in KSA and the wider region while contributing to the ongoing development of the nation's expanding ICT infrastructure as well as advancing the objectives of Saudi Vision 2030.
"This is a historical moment in the development of ICT infrastructure in Saudi Arabia, which is now developing smart solutions and advancing a digitised economy at an unprecedented rate," said Hazem Sandouka, COO, Virtual Vision. "With this launch, we are now ideally positioned to catalyse progress for the objectives of Saudi Vision 2030 while ensuring that local businesses across all sectors are able to leverage new heights of innovation through the unique agility and scalability offered by V2 Public Cloud."
The new offering provides businesses with a comprehensive set of capabilities spanning server virtualisation, high performance storage, public and private networking interfaces, disaster recovery-as-a-service and cloud support services.
Mohammed Al-Kharouf, CEO, Virtual Vision, said, "Cloud services are increasingly in demand across the region as businesses continue to scale and adapt to new regulations and customer expectations. With V2 Public Cloud being one of the first-ever public cloud offerings entirely based in Saudi Arabia, we are now able to support local corporate and government clients who must safeguard data assets locally in order to adhere to compliance regulations or logistical preferences, and so demonstrate our continued commitment to delivering the highest standard of value for our customers."
Xavier Poisson Gouyou Beauchamps, Vice President of Service Providers and Cloud28+ Worldwide at Hewlett Packard Enterprise, said, "We are excited to be working with V2 and to have the opportunity to bring our comprehensive portfolio of cloud services and infrastructure to customers in Saudi Arabia, as well as the wider GCC region. Our partnership moving forward from this launch will enable us to support local organisations as they take on the challenges offered by cloud computing and ongoing digital transformation."
Robert Jenkins, Chief Executive Officer and Co-Founder of CloudSigma, said, "CloudSigma are proud to have witnessed the launch of this public offering as we move forward to delivering a unique set of services for both KSA and the wider region through our partnership with V2. Through the provision of an entirely localised product that draws from a decade of operational excellence in cloud computing, we stand confident that customers across all sectors in this region will source a new standard of customer service from this offering."