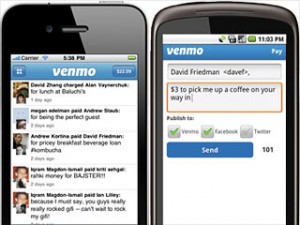 Venmo, a venture-funded startup, publicly launched a person-to-person payment app on Tuesday that emphasises sharing payments on social networks.
Drawing on a credit card or a linked bank account, users send money to another person in much the same way they would a text message. The app lets users include a note about what the payment was for, similar to using a paper check. It also invites users to share their notes on their Venmo activity feed and on the social networks Facebook, Twitter and Foursquare.
Venmo claims that, prior to moving out of a two-year private beta on Tuesday, it was processing roughly $10 million a month.
Payments don't jump out as a real-world activity that users are clamoring to share on social networks, but, according to Venmo co-founder Andrew Kortina, most payments have been shared.
"It's not obvious at all, which is maybe why no one has done it," Kortina said of sharing payment information. He and co-founder Iqram Magdon-Ismail, who were freshman-year roommates at the University of Pennsylvania and have been friends since, developed the app for themselves and then wanted to note their payments to one another. But they weren't initially sure other people would use the app the same way.
"If you go out with your friends to a bar, a movie, a restaurant or a trip, all these things cost money. And all these fun things are things you're going to tell your other friends about who weren't there. They're already social things that you're paying for, so it sort of does make sense that you would want to share them with your friends," Kortina said.
According to IDC analyst Aaron McPherson, social payments are increasingly on companies' radar.
Venmo also verifies users by requiring them to connect through their Facebook accounts, which McPherson said is an advantage over email-linked payment services like PayPal. "The thing about social networks is that people generally only have one identity," he said.
Like most other person-to-person payment services, Venmo transfers will be slowed down by the Automated Clearing House infrastructure on which they rely for non-credit card payments, McPherson said.
"I've yet to see a mobile payments system that doesn't use ACH, but you need to be careful with that because sometimes it takes two days to make a transfer — and it can take 5 days," he said.
Venmo is currently free for ACH transactions. Users get $500 in credit card payments free, but then begin paying a 3 percent fee. Asked how the company would generate revenue, Kortina said that Venmo was currently focused on making its payment system "fun and easy." But he suggested that the app may eventually allow individuals to pay bars and restaurants, for example, and in that case Venmo would charge the merchants a small fee.