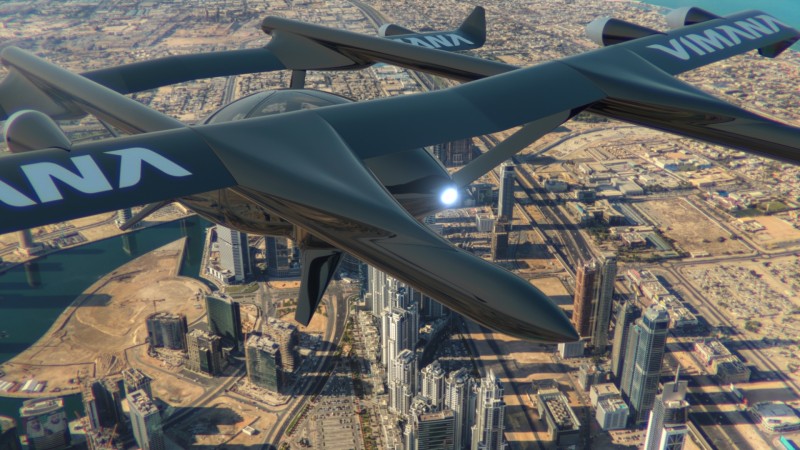 The CEO of Blockchain-based unmanned aerial vehicle provider Vimana has said the firm is in talks with the UAE's airspace authorities, with the view to a 2020 launch of the firm's services in the country's skies.
Speaking to tahawultech.com at the Future Cities Show at Dubai World Trade Centre, Evgeni Borisov said the firm, who has developed a prototype for the potentially revolutionary vehicle, is seeing increased interest in the Middle East region, and would be willing to work with competitors who have agreed deals in the UAE.
Based on a patent-pending invention, Vimana delivers a UAV, whose aircraft and applications use Blockchain technology.
The firm has developed a prototype for a blockchain-based and blockchain-regulated aerospace ecosystem, which intends to provide urban air mobility programs in smart cities.
"There's definitely room for us to work with Dubai," Borisov said. "Dubai is now the best global point of entry for VTOLs (vertical take-off and landing aircraft). The speed of progress in the UAE is faster than anywhere else in the world. We're in close touch with the UAE airspace authorities and are discussing the possibility of deploying the Vimana Blockchain aerospace network in 2020. It's a process which takes time."
Borisov said the technology Vimana is offering has the potential to build a platform for UAVs to be widespread, and part of a safe, transparent ecosystem. "We're bringing machine consensus to the skies, and this means the delivery of an ideal air and transport system," he said. "Historically, flight controls have been designed by people. We are bringing to market a joint solution to provide a human-less protocol which delivers a decentralised air traffic management system based on the Vimana system, which delivers node-to-node signal transmission."
Borisov said Vimana had already signed five MoUs with companies in the Middle East and North Asia region, and had "35 more" in the pipeline. He added that he does not believe Vimana should fear rivals such as Ehang, who have already agreed highly publicised deals with the UAE government.
"Every company in the space is making an effort towards colonising the world's last ocean – the skies," Borisov said. "We believe cooperation is needed in the UAV space. The market is huge, and breakthrough technology will find its way to the market. The next three years will be a showcase for companies trying to find their way in the field. Our technology gives us performance that no other company in this class can deliver."
Borisov also went on to claim that UAVs will be in the skies much sooner than driverless cars.
"We'll see AAVs in the skies before we see self-driving cars on our roads," he said. "With self-driving cars, there are 100 times more obstacles to detect and avoid. UAVs have less obstacles to contend with; the manoeuvrability is easier, and they're safer."