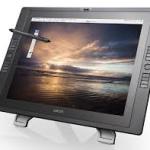 Wacom Co. Ltd., known for interactive pen displays and digital drawing tablets, is set to highlight its latest advanced and creative pen devices at the upcoming GITEX Technology Week.
The company will showcase its three new stylish pen devices, namely Intuos Creative Stylus 2, Bamboo Stylus 3rd Generation, and Bamboo Stylus fineline, and their respective feature which offer high comfort and precise control in terms of sketching, taking notes, and capturing ideas digitally.
Intuos Creative Stylus 2, Bamboo Stylus 3rd Generation, and Bamboo Stylus fineline Intuos Creative Stylus 2 reinforces mobile creativity, in addition to its fine solid tip which is especially essential in intricate sketching, drawing and painting. This premium on-the-go solution is ideal for creative professionals and enthusiasts who are frequent iPad users.
The innovative 3rd Generation Bamboo Stylus family is equipped with carbon fiber covered tip to give a smooth and comfortable feeling when writing or navigating on touchscreen devices. Users can choose between Bamboo Stylus Solo for touchscreen-based tool and Bamboo Stylus Duo as a combination with a traditional ball pen for use on capacitive devices and all kinds of paper.
Bamboo fineline is a smart stylus with new 'thin tip' technology to make navigating, writing, sketching and sharing on an iPad feel effortless. The product's other features include pressure sensitivity and palm rejection for increased precision and a more fluid action.
Ruediger Spohrer, Vice President – Marketing, Wacom Europe GmbH, said: "While the Bamboo Stylus products support easy navigation and annotating on an iPad, Bamboo fineline is designed for people who want to take notes and develop creative ideas on an iPad. We expect mostly business people and students to use this new product. Last but not least Intuos Creative Stylus 2 is the answer to many suggestions of our professional creative customers. Many of those asked to have a smaller tip so you can watch the line while drawing. That and the rechargeable battery are the major new features for the Intuos Creative Stylus 2. This year's GITEX will provide us a platform to feature our newest pen devices to thousands of visitors who are expected to participate in the event in October."
Experts and executives from Wacom will attend the one-week event to answer queries from local, regional and international participants and to demonstrate how the creative stylus technologies can enhance user experience.
Wacom will hold demonstrations at stand C2-10 at the GITEX Technology Week 2014, the event will take place at the Dubai World Trade Centre from the 12th – 16th of October.