Deputy Editor Giorgia Guantario talked to Marc Waters, Managing Director for the UK, Ireland, Middle East and Africa at Hewlett Packard Enterprise, to discuss how the IT leader is using next-generation technologies to address climate change, solve world hunger, increase sustainability, explore space and improve human life.
In today's digital economy, organisations are investing more and more in next-generation technologies to gain competitive advantage. According to a study by IDG, 89 percent of enterprises have plans to adopt or have already adopted a digital-first business strategy to differentiate and grow. Moreover the outcomes that can be achieved from technology can be way more far reaching.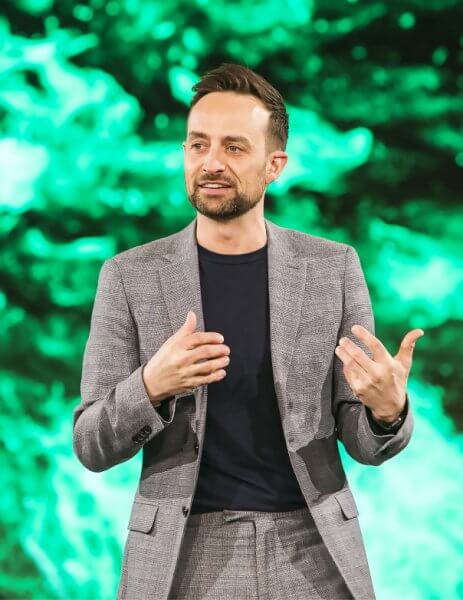 The impact technology has on human life raises more and more questions by the day. Whether we are fully conscious of it or not – technology is an integral part of our lives. While for most people this just means having a powerful smartphone glued to our hand, and for organisations it often just means increasing business value – technology can go well beyond photo filters or profitability.
Way too often, we forget about the biggest factor when it comes to digital innovation – people. Technology solves problems, and human kind is facing an unprecedented set of global challenges.
Aware of the need to use technology for good is Hewlett Packard Enterprise. The IT leader has delivered major digital transformation whilst clearly understanding their responsibility towards sustainability. Marc Waters, Managing Director for the UK, Ireland, Middle East and Africa, strongly believes technology can go well beyond a business strategy.
"At Hewlett Packard Enterprise we believe that as organisations become increasingly cloud enabled and data-driven, we will be well positioned to address our greatest challenges.
"The answers to many issues humanity faces are buried in huge amounts of data – if we start to apply innovative technology to process and analyse this data, then we will be able to provide a lot of answers to critical challenges in fields such as medicine, space exploration and climate change."
HPE has seen a major shift in culture since Antonio Neri began his tenure as CEO. According to Waters, Neri's main objective was to give HPE a clear sense of purpose as technologists who advance the way people live and work.
"Antonio fundamentally believes that people make the difference in an organisation. Core values and aligned purpose provide the motivation and direction for us to succeed together."
Neri, who began his mandate as HPE's CEO in February 2018, was very quick to deliver on this mission.
Making a difference
In September 2018, just months after Neri took office as the new CEO, HPE announced a partnership with the World Economic Forum (WEF), and jointly launched Tech Impact 2030 to put technology to work to tackle global challenges and achieve real change for society.
"Hewlett Packard Enterprise is collaborating with the WEF on Tech Impact 2030 – the project brings together industry, technology, academia and government leaders who share the same values in making meaningful societal changes, focusing mainly on world hunger."
In a recent study, the United Nations Food and Agriculture Organization (FAO) estimated that about 815 million people of the 7.6 billion people in the world, or 10.7 percent, were suffering from chronic undernourishment in 2016. To make matters worse, the United Nations also predicts that the world population is projected to reach 8.5 billion in 2030, and to increase further to 9.7 billion in 2050, requiring 70 percent more food than we do now.
Waters is aware that we need solutions, and fast.
"We are collaborating with universities and colleges to look at how we can innovate agricultural technology, ag-tech, using disruptive innovation to ensure food security and reduce world hunger.
"Our people are genuinely proud to know how their company is providing the technology and expertise to help achieve the Sustainable Development Goals set by the UN – to advance and improve the way people live," says Waters.
The impact of e-waste on the planet is an important focus area. Waters was quick to explain that sustainability is embedded in HPE's culture
"My belief as a tech leader, and the shared belief at HPE, is that tech sustainability is one of the most important challenges facing our planet. As we continue to use more and more of our technology to benefit society, we are also very aware that we need to drive a culture of reuse and efficiency to help the planet."
"Hewlett Packard Enterprise is fighting and winning this war on e-waste thanks to our Technology Renewal Centres (TRCs)."
Waters explained that HPE renews and recycles millions of units of old tech assets every year.
"The TRCs significantly reduce the amount of e-waste Hewlett Packard Enterprise and our customers produce, while also increasing the lifespan of technology to benefit businesses and the economy, as well as the planet.
"We can reuse 89 percent of the technology that goes through our centres, while the majority of the remainder is recycled. In the last year alone we processed over 26 million kilograms of IT assets," says Waters.
"When this lifecycle asset capability is embedded in our consumption service, the sustainability benefits are obvious. We have disrupted the established technology model to provide our full portfolio as a service. Our GreenLake solution is enabling this transformation."
HPE GreenLake delivers technology solutions as an automated consumption service. Waters explained that before organisations would have purchased hardware that would depreciate and become obsolete. HPE consumption services manage the lifecycle of technology assets in a sustainable and efficient manner meaning that customers only pay for what they use.
Reaching for the stars
HPE also has a longstanding collaboration with NASA, explains Waters. Back in August 2017, HPE and NASA started a year-long experiment to run a high-performance commercial off-the-shelf (COTS) computer system in space, something which had never been done before. Recently, HPE announced they custom-designed a new supercomputer for NASA's Ames Research Center to support modeling and simulations of entry, descent, and landing (EDL) for the agency's missions and Artemis program, a mission to land the next humans on the lunar South Pole region by 2024.
It comes as no surprise HPE was awarded the NASA Exceptional Technology Achievement Medal for technology development for their significant contribution toward the achievement of the NASA mission.
"Using technology to advance the future of space exploration is another example of our core purpose, to advance the way people live and work. Our collaboration with NASA to put high performance computing into space has been a phenomenal project. Receiving this award is a wonderful recognition for the incredible commitment, hard work and creativity shown by our teams.
"Our work with NASA is an excellent example of transferrable technology innovation we can bring to the Middle East. We have the capacity and experience to bring real value to the region."
Transforming the Middle East:
"The Middle East is a priority region where we are increasing our investments. Our business has been growing ahead of the market, we have great local talent and our technological capability is well aligned with the ambitions of the region. So we have all of the tools and all of the heritage. We are here to compete. We are here to win," says Waters.
"An example of our investment is our new Dubai office, a state-of-the-art digital workplace that our employees feel proud to work in. Having a good working environment stimulates creativity and collaboration, and that's at the core of what we do."
HPE has recently announced the Digital Life Garage which is part of a global initiative to establish a series of next-generation HPE innovation centres around the world that aim to transform how technology impacts society at large.
"We will create a place of collaboration and partnership that drives innovation and ideas between individuals and organisations – it all leads back to our core purpose to advance the way people live and work.
"The Digital Life Garage will be a hotbed for scientific research, home-grown high-performing technology solutions and ground-breaking technology innovations that will impact and benefit local businesses, as well as government organisations and our own customers and partners. Development of next generation skills will also be a key focus."
A key element of Waters' new role sees him working closely with Saudi government bodies to help achieve the country's Vision 2030 and its aim to reach a top ten position on the World Economic Forum's Global Competitiveness Index.
"I have taken up the Executive Sponsorship of our relationship with Saudi, a priority that I am really excited about. The Vision 2030 agenda is compelling, and we'll work with government bodies to deliver on their initiatives.
"Moreover, we have been putting extra emphasis on people's skills and future technologies – we have a very strong graduate programme and we have invested heavily in it since its launch nearly ten years ago. This is an area that I personally strongly believe in – we need to invest in young talent to help them attain skills that will benefit society and government initiatives."
Waters will be spending a lot of time in Saudi and is excited to build a comprehensive plan of growth and investment for the future of the country.
GITEX 2019
"This year's GITEX edition is very well aligned with our overall direction – the promise of tech as a force of good, to 'synergise the mind' and the economy, is incredible. Hewlett Packard Enterprise has proved to be a leading innovator of disruptive technologies to advance the way people live and work. We will explain how the Middle East can really benefit from next-generation technologies by introducing intelligent consumption and sustainability.
"We are very excited to share how to unlock the power of AI, machine learning and data analytics all the way to the edge and the cloud, both public and private. We will also make a number of announcements around the investments that will help Governments achieve their aspirations."