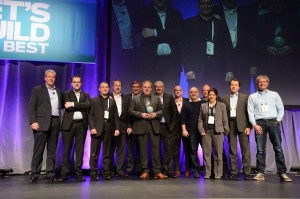 Westcon Group on Sunday announced that it has been named "EMEA Distributor of the Year" by Juniper Networks for the third time in four years.
The award was presented at the annual Juniper Networks Global Partner Conference in Las Vegas, where the company recognises outstanding achievements and commitment on the part of its channel partners.
Westcon Group impressed with its security business practice, which thrived in Europe, Africa, and the Middle East. It also achieved strong performance in Turkey through Neteks, it Turkish joint venture.
Overall, Westcon Group demonstrated more than 25% growth in EMEA during 2012. The success was largely attributed to its Configure-to-Order (CTO) project for Juniper Networks' MX Series 3D Universal Edge Routers.
"We congratulate Westcon Group for its outstanding achievements and commitment to leading customers to build next-generation networks," said David Helfer, Vice-President of Partners, EMEA, Juniper Networks.
"Our annual partner awards recognise those partners from around the world demonstrating outstanding leadership in sales, customer service, technology expertise and service specialisations – all combining to drive network innovation in the marketplace."
"Receiving the award for EMEA thrice in four years from Juniper is a testament to our commitment to our vendor partners on the global level and we are greatly honoured," said Leena Jayachandran, Business Lead for Sales and Marketing, Westcon Middle East Group.
"Juniper is a strategic partner for Westcon as a group and we constantly strive to ensure that our technical competency, sales skills and customer service and support are at the highest levels. We endeavour to continue to build on this success in the years to come."