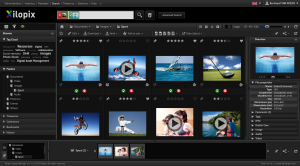 Xilopix has announced that its Xilopix Media Manager solution will officially launch in the MEASA region at this year's GITEX Technology Week, which will be held, as always, at Dubai World Trade Centre.
Media Manager is an all-in-one solution designed to be a touch-friendly multimedia search engine, which is coupled with digital asset management (DAM) functions and a sleek user experience.
Xilopix said that the solution was developed in partnership with CNRS's and INRIA's leading French laboratories. The DAM function allows users to combine multimedia objects such as images, flyers, videos and sounds inside a single search box. Users can then iteratively refine requests for results with what Xilopix called "unrivaled" relevance.
Media Manager is based on a powerful indexing engine connected to business-specific terms and a standard compliant thesaurus, Xilopix said. This, the vendor said, allows the solution to provide more accurate search results for multimedia content.
Xilopix said that its Media Manager could provide enterprise businesses with a new customer acquisition experience, for example, or public organisations with a unique and appealing user experience.
The e-commerce market could also find use for the solution, as it allows for more relevant "similar products" and better cross-selling, Xilopix said.
Available in SaaS (Software as a Service) mode, Xilopix Media Manager offers everything a user would expect from an expert, collaborative and secure digital asset management solution, Xilopix said.