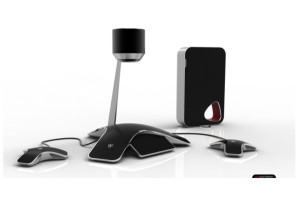 Polycom has unveiled the industry's first 360-degree, panoramic 1080p HD video collaboration solutions custom-built for Microsoft Lync.
The Polycom CX5500 and CX5100 Unified Conference Stations are designed to deliver a groundbreaking around-the-table experience for all participants, whether they're in the room or thousands of miles away, the company claimed.
At the Microsoft 2013 Worldwide Partner Conference, Polycom also announced that it has received Lync 2013 qualification for its full portfolio of Polycom VVX Business Media Phones. These announcements further the extensive partnership between the two companies, building on Polycom's industry-leading portfolio of 40 video, voice, and content sharing solutions that are interoperable or optimised to work with Lync today.
"The strategic alliance we've built with Microsoft over the past several years continues to deliver innovative collaboration solutions that provide Polycom and Lync customers with an unrivalled experience," said A.E. Natarajan, Senior Vice President, Worldwide Engineering, Polycom.
"Our custom-built for Lync solutions such as the new panoramic video collaboration experience, and our leading portfolio of Lync interoperable offerings, enable Polycom and Microsoft to win business from organisations seeking UC&C solutions that empower people to collaborate however, wherever and whenever they want."
"In the pervasive video era, it is all about the user experience. The new center-of-table, panoramic video solutions from Polycom will provide Lync customers with a richer, more interactive collaboration experience," said Jim Lundy, CEO of Aragon Research.
The new Polycom CX5500 delivers enterprise-grade video and audio collaboration capabilities in an easy-to-use system that can be plugged into a USB port on a laptop, and it also doubles as a SIP audio conference phone providing the industry's best audio quality. The Polycom CX5100 provides the same HD panoramic USB video experience for customers who don't require standalone conference phone connectivity.
The new additions to Polycom's CX series of Lync-optimised solutions are successors to the Polycom CX5000 HD Unified Conference Station. The solution retains the unique around-the-table, 360-degree, panoramic experience and delivers more than twice the HD video image quality, double the frame rate for life-like motion handling, and Polycom's HD Voice for the highest quality audio while adding a new interface and design and a privacy cap.
For organisations with Microsoft Lync- environments, the new Polycom CX5500 and CX5100 Unified Conference Stations enhance communications and collaboration by providing:
More productive and efficient meetings. Since the Polycom CX5500 or CX5100 is placed in the centre of a meeting room table, it enables a natural conversation that addresses the need to collaborate and engage simultaneously with those in the room (around the table) and other participants who are remote. Both systems deliver 1080p active speaker video that automatically tracks the flow of conversations at a fluid 30 frames per second, while offering a 360-degree panoramic view of the room. Conversations remain crystal clear with high-fidelity Polycom HD Voice.
User-friendly design. An all-new user interface and system design makes it easy to launch or join a call directly from the Lync user environment – users simply connect the CX5500 and CX5100 via USB to a computer that is running Lync. The CX5500 and CX5100 systems can also be used in combination with the recently announced Lync Room System, bringing together center-of-table 360-degree cameras with a built-for-Lync video room system that includes touchscreen monitors and a tabletop touch controller. 
Lower cost of ownership. The Polycom CX5500 functions as both an HD video collaboration environment and a fully featured SIP conference phone, which reduces capital costs for organisations needing both. Also, because it's easy to use, provision and configure, companies can save on training and IT costs.

The introduction of new solutions custom built for Lync, and the continued expansion of Polycom's Lync-interoperable portfolio, reflect the strength of the Polycom and Microsoft alliance.