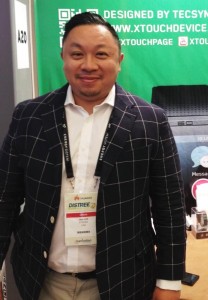 Jack Lee, Senior Vice President, XTouch, shares learnings from DISTREE and highlights latest products. 
Jack Lee's entrepreneurial venture, XTouch began its journey three years ago at Dragon Mart in Dubai. Today, the company sells 100 thousand units per month, having grown from 40,000 units per month in 2013, which includes products such as smartphones, smart watches and tablets among others. With only a R&D department set up in China, XTouch is a Chinese company selling in the Middle East and has recently begun operations in Africa as well.
"DISTREE is a great opportunity for a young brand like ourselves to get focused retail and channel exposure. Retailers are the people who truly know their customers, therefore, it is very important we have a continuous conversation with them. DISTREE is a results-driven event, with focused presentations and discussions," says Jack Lee, Senior Vice President, XTouch.
In his presentation at Live@DISTREE session, Lee elaborated on some of the market trends in the space. "Android continues to dominate the world. And smartphones have taken over feature phones according to industry reports. What we see is that value smartphones will soon become mainstream."
This means the company sees a huge opportunity in the smart devices space, says Lee. He further adds that because the event attracts decision-makers from across the channel, it is one of the major events for the company.
With Redington as their distributing partner for MEA, the Chinese brand is available on the shelves of Sharaf DG, Plug-Ins, Lulu, Geant and so on. Lee further confirms that the company is on the lookout for more potential retail partners.
When it comes to innovation, Lee says, it is really a tough space. "What we consider innovative may not be so, once we step out and see other innovations. This has been one of the greatest learnings for us from DISTREE Middle East. Events such as these, expose the industry to what is out there. It is important to not to live in our own world," Lee says.  "After DISTREE's Fresh and '60 minutes to convince' sessions, we realise more work needs to be done to our products."
The company highlighted some of its product line at the event, from smart watches to innovative smartphones and tablets. However, innovation, Lee says, is about what the customers need. "As manufacturers, we need to listen more to our customers. We innovative, design and manufacture in China, therefore, events such as DISTREE helps us to know more."
Following a traditional distribution channel, Lee aims at building the brand in the region in the next year or so. "Retailer's participation is what makes DISTREE so key for us," he concludes.