Top executives from Facebook and Twitter defended their companies in the US Congress on Wednesday as lawmakers probe on what they believe as a failure to combat continuing foreign efforts to influence US politics.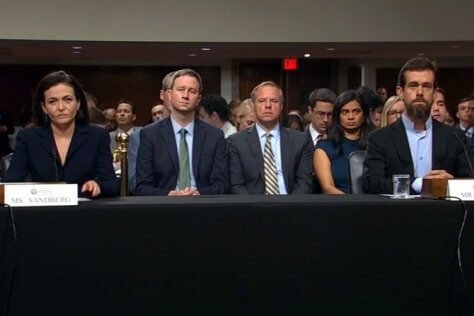 According to the report, the US Department of Justice and state attorneys general will meet this month to discuss concerns that social media platforms are "intentionally stifling the free exchange of ideas."
Its statement did not name Facebook and Twitter whose executives testified in Congress, but the firms have been harshly criticised by President Donald Trump and some of his fellow Republicans for what they see as an effort to repress conservative voices.
The companies have denied any such bias.
Facebook Chief Operating Officer Sheryl Sandberg and Twitter Chief Executive Jack Dorsey testified at a Senate Intelligence Committee hearing on efforts to counteract foreign efforts to influence US elections and political discourse.
Sandberg and Dorsey said the companies had stepped up efforts to fight such influence operations, but lawmakers said there was far more to be done and suggested Congress might have to take legislative action.
Senate and House Republicans and Democrats commended efforts by Facebook and Twitter to root out foreign election meddling issues. However, they warned that regulation may loom for social media companies.
"We don't think it's a question of whether regulation," said Sandberg during a congressional hearing. "We think it's a question of the right regulation."
Committee members also criticised Google for refusing to send top executives to testify at the Senate hearing, with just weeks before the November congressional elections.
Dorsey then testified at a House of Representatives Energy and Commerce Committee hearing focused on the bias issue.
Representative Greg Walden, the committee's Republican chairman, raised concerns that Twitter had made "mistakes" and minimised Republicans' presence on the social media site, a practice conservatives have labeled "shadow banning."
Dorsey denied any deliberate attempt to target conservatives, or promote liberals, during more than four hours of questioning.
Ahead of Wednesday's hearings, Trump, without offering evidence, accused social media companies of interfering in the November elections, telling the Daily Caller conservative website that social media firms are "super liberal."
Trump was quoted as saying in the interview on Tuesday that "I think they already have" interfered.