Abu Dhabi-backed Virgin Galactic has successfully launched its space tourism vehicle from California's Mojave desert.
The mission if successful would mark the first US human flight beyond the atmosphere since the end of America's shuttle programme in 2011, according to Reuters.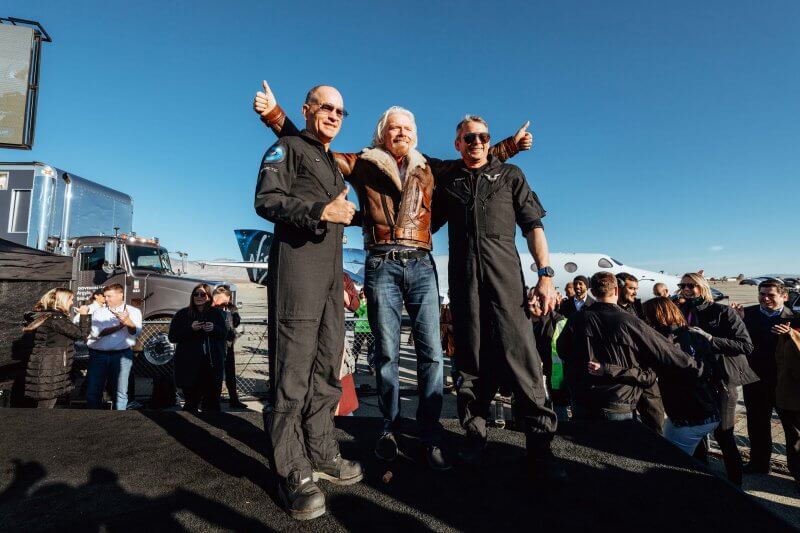 The successful test flight presages a new era of civilian space travel that could kick off as soon as 2019, with Richard Branson's Virgin Galactic battling other billionaire-backed ventures such as Amazon.com Inc founder Jeff Bezos' Blue Origin, to be the first to offer suborbital flights to fare-paying tourists.
Virgin's twin-fuselage carrier airplane holding the SpaceShipTwo passenger spacecraft took off from the Mojave Air and Space Port, about 90 miles (145 km) north of Los Angeles.
Branson, who said he personally put up $1 billion toward the roughly $1.3 billion development costs for Virgin's space businesses, told Reuters he viewed competition with Bezos and others as a race, though passenger safety was the top priority.
The test flight was the first time Brason's space tourism startup has gone more than 50 miles above Earth.
It had two pilots onboard, four NASA research payloads, and a mannequin named Annie as a stand-in passenger.
It earned both pilots commercial astronaut wings from the US government and put Virgin Galactic on track to become the first private company in the world to take paying customers to space.
"Today we get to enjoy the fact that we have put people into space before anybody else," Branson said.
"We have shown that Virgin Galactic really can open space to change the world for good. We will now push on with the remaining portion of our flight test program, which will see the rocket motor burn for longer and VSS Unity fly still faster and higher towards giving thousands of private astronauts an experience which provides a new, planetary perspective to our relationship with the Earth and the cosmos. This is a momentous day and I could not be more proud of our teams who together have opened a new chapter of space exploration."
After the rocket plane reached an apogee of 51.4 miles (83 km) above Earth, a crying Branson high-fived and hugged spectators. The plane reentered the atmosphere at 2.5 times the speed of sound and landed a few minutes later to cheers and applause, concluding roughly an hour's journey.
Virgin Galactic had worked toward the goal since it was founded in 2004. It also marked the first crewed flight to space from US soil since the Space Shuttle retired in 2011, with Virgin Galactic beating out other well-funded competitors.
"Today as I stood amongst this truly remarkable group of people, all of us with our eyes on the stars, we saw our biggest dream and our toughest challenge to date fulfilled," Branson told the crowd, adding more flights were months away.
Nearly 700 people have paid or put down deposits to fly aboard Virgin's suborbital missions, including actor Leonardo DiCaprio and pop star Justin Bieber. A 90-minute flight costs $250,000. Virgin Galactic has received about $80 million in deposits from future astronauts, Branson said.
Abu Dhabi's Aabar Investments, now under Mubadala, acquired a 31.8 percent stake in Virgin Galactic in 2010.