Windows is driving PC sales, even as Apple suffered a massive drop, according to latest result of PC shipments worldwide.
Both Gartner and IDC have announced their preliminary results of 3Q 2018 PC shipments and Lenovo is back into business overtaking HP to regain the number one position again.
While Gartner's  results point to a 0.1 percent increase compared to the same period last year, IDC figures on the contrary indicate a 0.9 per cent decline year on year.
While Gartner said 67.2 million units were shipped during the 3Q, IDC put the number at 67.4 million units. It should be noted that the data only consists of traditional PCs (desktop, notebook, and workstation) and does not include tablets and chrome books.
The result also indicates that shipments to Europe, Middle East and Africa, Asia/Pacific and Japan rose while there was a decline in the number of units shipped to the US and Latin America.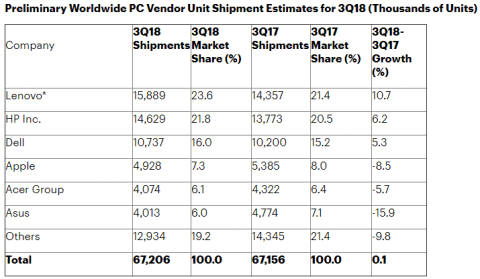 Across the Middle East, desktop and laptop sales have been showing signs of stability during the past year with HP, Lenovo and Dell maintaining the top three positions during the past few years.
IDC had earlier set the forecast for PC shipments to Middle East and Africa to increase from 12.09 million units in 2018 to 12.183 million by 2022 a decline of CAGR 0.21 per cent between 2017 to 2022.
According to Gartner the global market has shown modest stability for two consecutive quarters.
"The PC market continued to be driven by steady corporate PC demand, which was driven by Windows 10 PC hardware upgrades. We expect the Windows 10 upgrade cycle to continue through 2020 at which point the upgrade demand will diminish," said Mikako Kitagawa, principal analyst at Gartner.
"Q3 came in better than expected," said Jay Chou, research manager with IDC's Personal Computing Device Tracker.
"But the outlook remains uncertain as we head into the holiday season, when volume will be boosted by many consumer-oriented promotions in entry-level SKUs. AMD supply could help with processor demand somewhat, but it will also take time for OEMs to spec in more models."
Meanwhile, following its joint venture with Fujitsu, Lenovo has retained the top spot with growth of 10.7 percent and 21.4 per cent market share  as per Gartner and 24 percent as per IDC.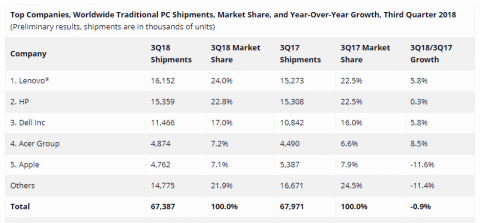 HP at number two and followed by Dell recorded year-over-year growth. According to  Gartner while HP registered strong demand among corporate buyers, DELL has had better performance across EMEA, Asia/Pacific and Japan, showing growth in both desktop and mobile PCs in these regions.
Apple numbers are disappointing as its PC segment registered a decline of 11. 6 per cent (IDC) and 8.5 per cent (Gartner) during the same quarter the previous year.