Engagement to display how hyperloop would promote Saudi economic and social modernisation in concert with Vision 2030 ideals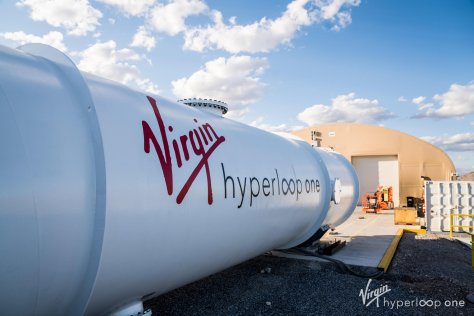 Virgin Hyperloop One, the California-based hyperloop company has chosen Jeddah as the principal site for the Middle Eastern segment of a global promotional campaign to air later this fall.
The film will highlight the future of mobility, environmental sustainability, and human connectivity through the transformative proprietary technology.
With speeds 2-3 times faster than high-speed rail and an on-demand, direct to destination experience, hyperloop technology can reduce journey times across the kingdom, exponentially increasing connectivity across not only across KSA but throughout the GCC.
The choice of Jeddah highlights the company's belief in the socio-economic advances of the Kingdom and the ideals of Vision 2030.  The Vision is the landmark blueprint authored by HRH Crown Prince Mohammad bin Salman bin Abdulaziz to provide a new foundation of growth, prosperity and highly advanced technological progress in Saudi Arabia to the next generations of women and men in the country.
"Jeddah is an up-and-coming modern urban center in the region and is setting high standards to achieve the objectives of Vision 2030.  We know there is a bright future for Saudi Arabia, already evidenced in our partnership with the Prince Mohammed bin Salman bin Abdulaziz Foundation 'MISK' to collaborate with young & talented Saudis about how our cutting-edge technology can transform the world," said Josh Giegel, the Co-Founder of Virgin Hyperloop One.
The relationship between Virgin Hyperloop One and the Kingdom reached new heights in April of this year when executives from Virgin Hyperloop One hosted HRH Crown Prince Mohammad bin Salman bin Abdulaziz, during his visit to Virgin Galactic test site in the Mojave Desert. During his visit, HRH the Crown Prince unveiled the Vision 2030 Hyperloop Pod, further cementing the commitment between the Kingdom and Virgin Hyperloop One to bring hyperloop technology to Saudi Arabia.
The commitment between the two countries continued into the summer by hosting twenty-one high school and university students from the Mohammed bin Salman bin Abdulaziz Foundation (MiSK), a non- profit organization founded in 2011 to discover, develop and empower Saudi youth to become active participants in the future economy.  The students took an active role in the study of hyperloop technologies, presenting several iterations of customer experience models for passenger travel and cargo options.
Using the Hyperloop, travel time from Riyadh to Jeddah would take around 76 minutes (currently over 10 hours), positioning KSA as the gateway to 3 continents. Traveling from Riyadh to Abu Dhabi would take about 48 minutes (currently over 8.5 hours).