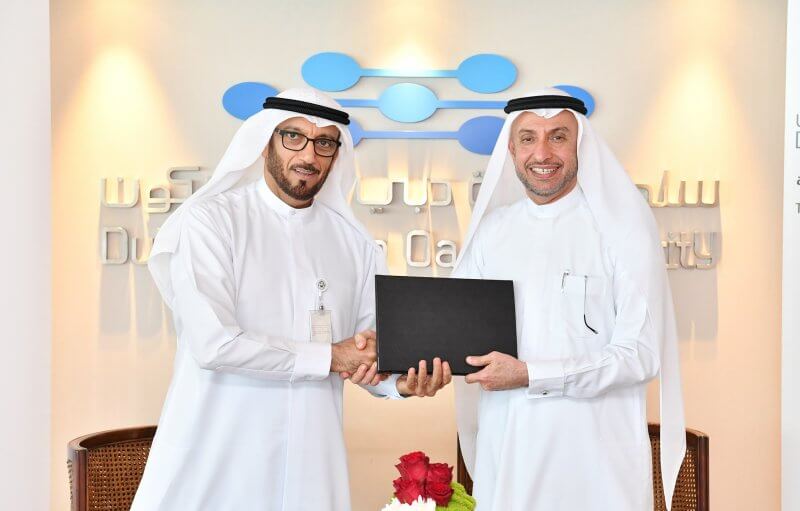 Dubai Silicon Oasis Authority (DSOA), the regulatory authority for Dubai Silicon Oasis (DSO), the integrated free zone technology park has signed a Memorandum of Understanding (MoU) with the General Directorate of Residency and Foreigners Affairs-Dubai (GDRFA) to further facilitate the delivery of smart services to investors, entrepreneurs and startups, particularly homegrown entities, and help them develop their businesses in areas such as technology, AI, and smart city applications.
Aligned with Dubai's Smart Government Strategy and the UAE Vision 2021, the agreement aims to ensure the protection of intellectual property and enhance creative thinking skills and applications, while boosting cooperation in the scientific, training and professional fields as well as the exchange of expertise in legal, technical and administrative matters.
As part of the MoU, the General Directorate of Residency and Foreigners Affairs will set up an office in DSOA's headquarters to provide government services directly to DSO-based entrepreneurs and investors.
Dr Mohammed Alzarooni, Vice Chairman and Chief Executive Officer of DSOA, signed the MoU with Major General Mohammed Ahmed Al Marri, Director General, GDRFA, in the presence of senior officials from the two sides.
"DSOA is committed to growing and developing its services according to the Smart Dubai initiative, which aims to make Dubai the smartest and happiest city in the world," said Alzarooni. "We are pleased to sign this partnership agreement with a pioneering entity such as GFRFA that is known for its extremely effective and efficient smart government services and for achieving high levels of customer happiness. Notably, the agreement supports the objectives of the UAE Vision 2021 and Dubai Plan 2021 in shaping an attractive environment that empowers creative entrepreneurs to turn their ideas into successful projects that serve the national economy."
He added: "We continue to work towards DSO's strategy to become the first integrated smart city in Dubai while proactively looking to gain valuable expertise from other renowned entities. Such partnerships are crucial to DSOA and its business partners for they ease the operations of existing businesses and make it more attractive for investors, entrepreneurs, and startups to establish their creative and commercial projects at the integrated hi-tech park."
For his part, Major General Mohammed Ahmed Al Marri said: "Our agreement is one way of bringing entities together and joining ventures to achieve the UAE's Strategy and Vision 2021. We hope to build an attractive ecosystem, and innovative work environment to creative entrepreneurs and rising businesses that will make Dubai a home for their operations. We continue to join efforts to up-bring a generation of leaders that will build the future of the UAE."
He continued: "GDRFA and DSOA are committed to develop their services and offerings to ensure the users satisfaction. Our efforts come in line with Dubai's vision to become a sustainable and innovative city in managing its operations and resources."
DSOA continues to enable the provision of various smart services as part of its contribution to the Smart Dubai strategy that focuses on the six key sectors of smart governance, smart society, smart economy, smart environment, smart mobility, and smart lifestyle.