Under the theme "Prospering From Pluralism: Embracing Diversity through Innovation and Collaboration", the UAE is set to host a two-day mega conference – World Tolerance Summit from November 15 to 16, 2018, to coincide with the International Day of Tolerance on November 16.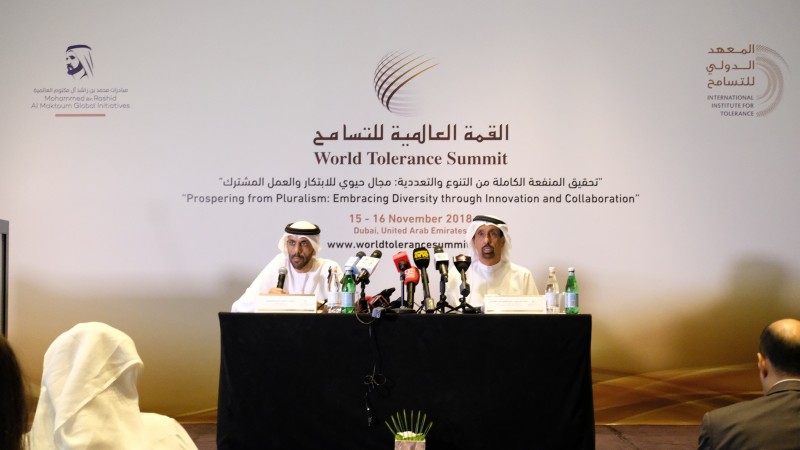 The initiative, which is being led by International Institute for Tolerance part of Mohammed Bin Rashid Al Maktoum Global Initiatives, will gather up to 1000 government leaders, key personalities from the private and public sectors, youth representatives, social leaders, social influencers, and the international diplomatic community in a platform that seeks innovative solutions and to forge fruitful partnerships that will help promote respect for diversity and productive pluralism.
Day one of the summit will be graced by Sheikh Nahayan Mabarak Al Nahayan, UAE Minister for Tolerance and Chairman of the Board of Trustees of the International Institute for Tolerance.
In conveying UAE's message of love and tolerance to the world, he said, "Tolerance is not simply enduring the existence of opinions, ideas, behaviours or practices that do not concur with your own. It is about recognising, respecting and embracing diversity. It is about being secure in your own culture and beliefs, so that you respond to what is different with curiosity and compassion rather than with fear and intolerance.  To be tolerant one needs to be concerned genuinely for the welfare of one's fellow human beings, and to take action based on those concerns."
The summit will explore the use of social media and digital networking in advocating the significance of tolerance with respect to its societal and economic benefits.
There will also be a strong effort focusing on the youth through the involvement of educational institutions in inculcating the values of tolerance as well as efforts to include women empowerment and their capacity to promote and advocate the value of tolerance.
Day one of the event concludes with the Tolerance Awards that will give recognition to political and business leaders, change-makers, cultural figures, artists, and influencers for their contribution in the advancement of the culture of tolerance, harmony, and peaceful co-existence through their works.
World Tolerance Summit will have on its second day a series of workshops inculcating the values of the late Sheikh Zayed bin Sultan Al Nahyan. Topics covered include Zayed Values; The Youth of Today, The Leaders of Tomorrow; Women Empowerment in the Development of Country; A Tolerant Country, Happy Society; Understanding and Learning the Science Behind Tolerance; and Using Arts and Sports in Promoting Tolerance.
The Tolerance Library will give access to a wide range of books from all over the world to give readers a deeper perspective on tolerance. WTS will also utilise the digital media via Tolerance Tube to enhance offsite participants with different opinions on and the value of tolerance thru interviews which will be broadcasted on YouTube. The event will also have its own official page on YouTube where people can participate by sending questions addressed to speakers and participants.
WTS Art and Photography Exhibition will be held exclusively during the two-day event. Artists and photographers are welcome to join and showcase their work with Tolerance as their theme. A winner will be selected each for best art and best photograph category and will be given recognition on social media and coverage on traditional media.
World Tolerance Summit is the world's first of its kind event that tackles tolerance, peace and cultural understanding among mankind. It will be held under the Patronage of Sheikh Mohammed bin Rashid Al Maktoum, Vice President and Prime Minister of the UAE and Ruler of Dubai. Inspired by the values of the founder of UAE, the late Sheikh Zayed bin Sultan Al Nahyan, WTS seeks to create a world where every person of any colour or race is treated equally and without prejudice.